The inauguration ceremony for the new chairman of the Koreatown Senior & Community Center took place on September 26, accompanied by a Chuseok feast.
Around 300 individuals convened in the auditorium on the Senior Center's second floor. Attendees included Consul General Youngwan Kim, officials from the LA Mayor's Office, Councilmember Heather Hutt of the 10th District, Olympic Police Captain Aaron Ponce, representatives of pivotal organizations, as well as senior volunteers and members.
The festivities initiated with a rendition of "Sounds of Hope" by the Senior Center's Janggu (hourglass-shaped drum) band. This was succeeded by an inaugural address from the new chairman, Yong Sin Shin, remarks from the former board president of the Senior Center, and statements from the distinguished guests present.
"For the next two years, we will focus on four things: programs, services such as food and transportation, fundraising, and the operation of the Da Wool Jung, a Korean-style gazebo," said Shin, "to make the senior center a place where seniors can be healthy, happy, and joyful."
During the event, Councilmember Hutt bestowed a variety of kitchen implements, such as fryers and cooking tools, upon the senior center, in anticipation of its upcoming kitchen operation. This generous gesture was met with heartfelt applause from the seniors present.
"I will continue to support the Senior Center as a place for seniors," said Councilmember Hutt.
The day's program, commencing at 11 a.m., showcased a myriad of performances from senior members and instructors, spanning Korean dance, piano, and theatrical acts.
Later in the day, a ribbon-cutting event coupled with a celebratory performance took place, marking the management transition of Da Wool Jung from the Korean American Chamber of Commerce Los Angeles.
New Chairman Shin said, "In the future, classes such as Janggu, poetry recitation, and harmonica will be held at Da Wool Jung, and we are planning to establish 'Da Wool Jung Gardening Base' as a gardening class for seniors. We will use it as a second campus of the senior center."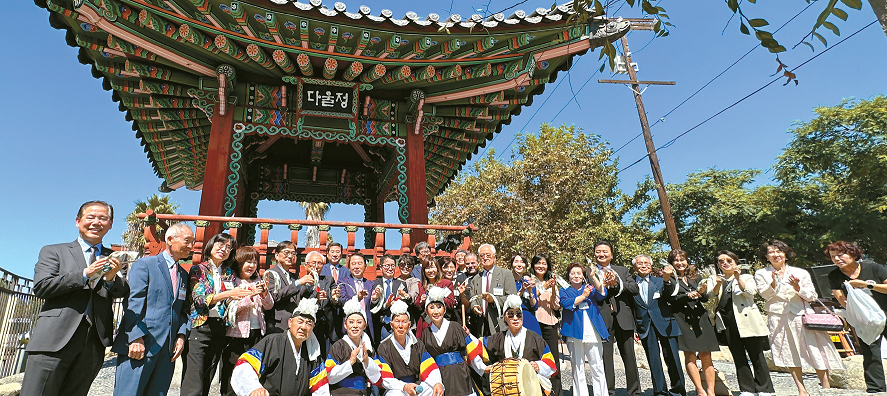 BY SUAH JANG     [jang.suah@koreadaily.com]