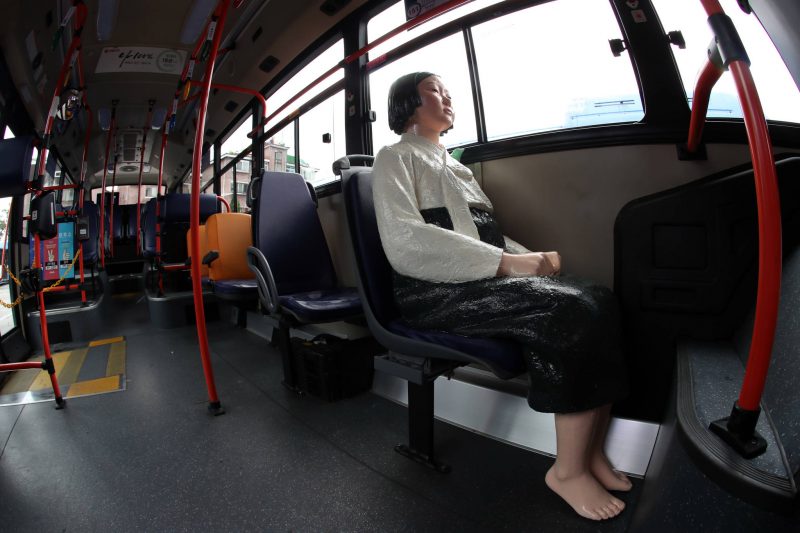 The Statue of Peace, which symbolizes the victims of sexual slavery by the Japanese imperial military during World War II, is to travel around Seoul, Korea, by bus.
From August 14 to September 30, five of buses #151, which are operated by Dong-A Transportation, will carry the statues around. This event is designed especially to commemorate World 'Comfort Women' Day, which is meeting its fifth year on August 14.
Kim Woon-sung and Kim Suh-kyoung couple, who designed the statue in front of Embassy of Japan in Seoul, dedicated five girl statues. These statues are made in fibre-reinforced plastic for passengers' safety.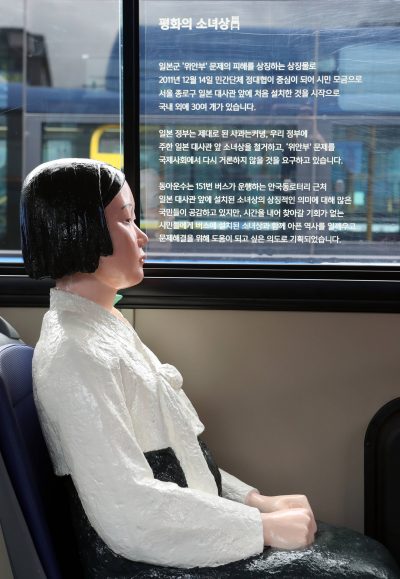 Bus #151 departs from Ui-dong and travels through Hyehwa-dong, Anguk-dong, and Namdaemun. When the bus passes Anguk-dong rotary in front of Embassy of Japan, an announcement and "Arirang," the soundtrack for the historical period film depicting lives of Korean 'comfort women,' Spirits' Homecoming, will be played.
"We designed the project to commemorate the 'comfort women' victims and to help resolve the conflict with Japanese government regarding the incident by bringing the Statue of Peace to citizens who agree with what the statue symbolizes," explains Dong-A Transportation.
Original article by Choi Jung-dong