Would it be an exaggeration if I say that I've found the Lost City? Place which had once been a home for animals, the Old Zoo now turned into a place that resembles the ancient remains. On the eastern side of the Griffith Park, one can find the Old Zoo covered with graffiti and trees.
Opened in 1912, the Griffith Park Zoo was a city-owned zoo in Los Angeles until it closed in 1966 with the opening of the Los Angeles Zoo. At the time of its grand opening, 15 animals lived here. However, the expansion of the city of LA made this place small and old for 2 millions of visitors a year, which led animals to move to the newly built zoo.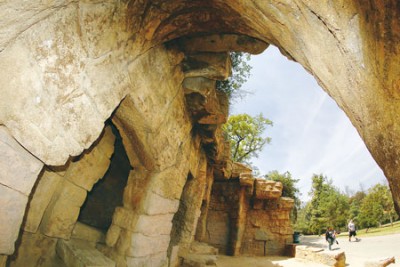 After the animals moved to the Los Angeles Zoo, Griffith Park Zoo was left there without demolishment. Half a century was proven to be enough to make a family-friendly zoo into somewhat eerie remains.
However, the abandoned zoo is not in the complete absence of visitors. With benches and picnic areas allocated throughout the place, it is used as a picnic spot for hikers to the Griffith Park. Bee Rock, which is named after its bee-like appearance, serves as a great platform to observe the spectacular city view.
Visit the Old Zoo if you're seeking to experience something you can't in the zoo busy with animals and visitors.
Original document available from www.koreadaily.com/news/read.asp?art_id=4257394
Translated and edited by Heewon Kim