Driving to the eastern corner of Mojave, you will be able to find hundreds of planes parked on the middle of dessert. This place is Mojave Air and Space Port, where planes are reviewed and reborn.
Mojave Airport is used as a site for aircraft inspections, storage and part-out. When persisting period ends, each plane is sent to places like Mojave Airport to be inspected, repaired, or discarded. Some of the airports deal only with military aircrafts, being closed to the public for security issues. Mojave Airport, however, mainly is for commercial airplanes, processing about 1,000 planes.
Mojave Air and Space Port also is home to the National Test Pilot School, where more test pilots are educated than any other site in the world. Flight research activities include endo- and exo-atmospheric craft supporting private sector and government funded projects. In 2004 Mojave Spaceport hosted the Ansari X Prize suborbital space flights.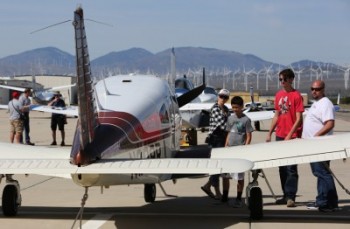 Every third Saturday, Mojave Airport holds 'Plane Crazy Saturday,' opening the airport to public for free. At this event, you can find various static aircrafts on display, including combat aircraft, Cessna, and Piper. Next event will be held on April 16 from 10 am to 2 pm.
Address: 1434 Flightline, Mojave, CA 93501
Original document available from www.koreadaily.com/news/read.asp?art_id=4137154
Translated by Heewon Kim