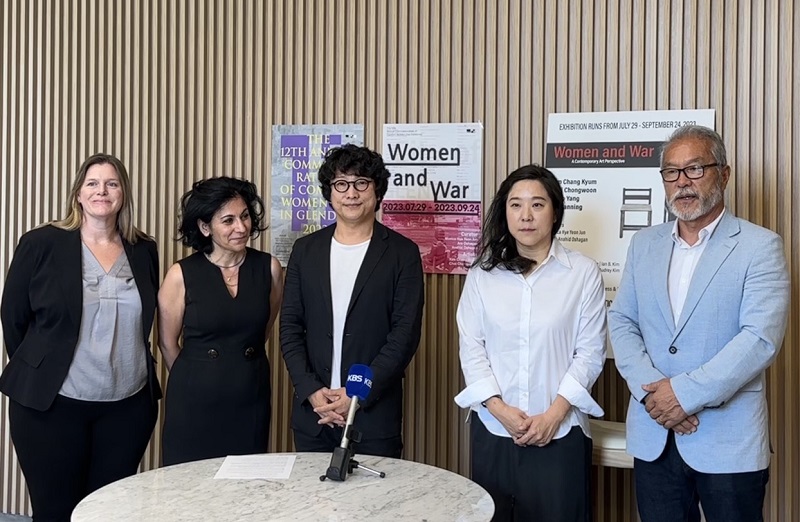 A special exhibit titled "Women and War" will open in Glendale on July 29, commemorating the 10th anniversary of the Girl of Peace, or 'Comfort Woman,' statue's erection, and the 12th anniversary of the proclamation of Comfort Women's Day.
The exhibit will be showcased at the Glendale Central Library (222 E. Harvard St., Glendale, 91205) and will run until Sept. 24. The event is co-sponsored by the City of Glendale and the City's Sister City Committee, and co-hosted by the Glendale Central Library and the City's Comfort Women's Day Organizing Committee. It is also sponsored by the Women's Human Rights Institute of Korea and the Japanese Army 'Comfort Woman' Issue Research Institute.
A ribbon-cutting ceremony will take place in front of the 'Comfort Woman' statue at 4 p.m. on July 29, followed by the opening of the exhibition at 6 p.m.
The exhibit will feature various artworks from four artists – Chang kyum Kim, Chongwoon Choi, Do Yang Zu, and Jan Banning. Notably, Chongwoon Choi will present a work made from soil collected from Manghyang Cemetery in Korea, the resting place of comfort women, and water from the Imjin River, symbolizing the pain of Korean division.
Additionally, works by the Comfort Women Action for Redress and Education (CARE) and the Glendale Sister City Committee in collaboration with Korean American students will be on display.
Hye Yeon Jun, the director of the exhibition, stated, "This exhibition serves as a reminder to never forget the pain of history." She emphasized the use of various media outlets, including augmented reality (AR) and interactive art, to encourage audience empathy and engagement with the artworks.
"We are also launching a social media campaign to involve young people and individuals worldwide in women's human rights," Yeon added. "We hope you will join us in honoring the human rights of women who suffered during the war."
Glendale City Commissioner Chang Yup Lee expressed, "It has been over 10 years since the 'Comfort Woman' Statue was established," and he further stated, "Despite facing difficulties due to lawsuits in the past three years, this event holds greater significance as the statue has remained in place. However, pro-Japanese policies continue to threaten its existence."
According to Lee, the Japanese consul general visits daily and demands the statue's removal. "I hope this event will provide an opportunity to raise awareness about the 'Comfort Woman' statue in other communities and address the issue," Lee concluded.
BY YEJIN KIM   [kim.yejin3@koreadaily.com]