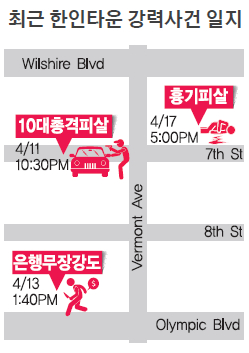 Three violent crimes have occurred in Los Angeles Koreatown in less than a week.
On April 17, a man was fatally stabbed outside of a Korean-owned liquor store near 7th St. and Vermont Ave. after an altercation with the suspect.
The victim was identified as a black man in his 30s, according to the Los Angeles Police Department (LAPD). The police reported that neither the victim nor the suspect were homeless and that the incident appeared to be gang-related.
Earlier, on April 11, a teenager riding in the passenger seat of a car was shot and killed by a robbery suspect at 7th St. and Berendo St. And on April 13, there was an attempted bank robbery at Olympic Blvd. and Berendo St. that led to a police standoff and an eventual arrest.
Meanwhile, an unconfirmed rumor is circulating on social media that a man was stabbed in broad daylight near the Wilshire and Vermont metro station on April 18.
Residents in Koreatown are living in fear. Gina Bae, a 47-year-old office worker who lives in Koreatown, said, "I've been hearing about a new crime incident almost every day lately. I often hear about them through my friends and acquaintances. Nowadays, I'm scared whenever I go outside. When I get out of my car, I can't help but check my surroundings, and I get nervous just walking down the street."
Police officers also said they've noticed an increase in crime in the neighborhood lately. They blame it on a combination of L.A. County's lenient criminal justice policies and a decrease in the number of police officers.
"With the 'Zero Bail' policy that allows criminal suspects to be released without bail, and allowing bail for felons, these criminals are freely roaming around the streets, causing secondary offense," said Ben Park, president of the Korean American Law Enforcement Officers Association (KALEO). "On the other hand, internal audits of the police have increased, and cases from five to six years ago are being retried in court. So the police have become more cautious and passive in enforcing the law. Also, the rate of LAPD officers retiring is faster than officers being hired," he said, "so there is concern of violent crime only getting worse in the future."
There were voices of concern and disappointment during the Olympic Police Association's (OBA) monthly meeting on April 18 as well.
OBA President Brad Lee said, "The suspect of the attempted bank robbery that took place on April 13 has two prior convictions for attempted robbery. I don't understand how a criminal with such a criminal record was on the streets."
"The Olympic Police Department is trying to strengthen security by increasing patrols, but no matter how many criminals are arrested, the prosecution just releases them, so crime is bound to continue to increase," said Lee. "We encounter a lot of property crimes, especially in Koreatown. Korean-Americans are easily targeted because of rumor that the businesses here hold a lot of cash in the store," he added.
Meanwhile, according to crime statistics from the Olympic Police Department, there were 438 violent crimes and 1,178 property crimes starting this year through April 8. Compared to the same period last year, violent crimes increased by 1.2% and property crimes decreased by 16.2%.
The crime with the largest increase over last year was robbery, which is up 19.7% from 208 to 249. Sexual assault, on the other hand, saw the largest decrease, down 50%, from 12 to 6.
BY SUAH JANG [support@koreadaily.com]