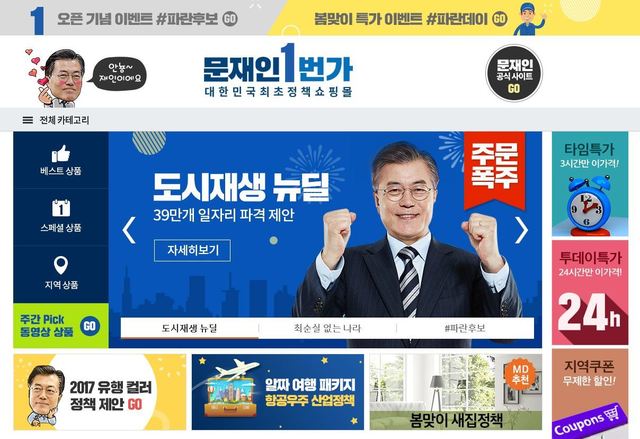 Politics, at times (most of the time, to be honest with myself), sounds difficult and boring. Policies invite unfamiliar terms and many are left puzzled not knowing which one is really beneficial to their own needs.
For the upcoming presidential election in South Korea on May 9, one of the candidates made an effort to make politics sound easier and fun by creating an "online shopping mall" that sells policies. "Moon Jae-in 1st Steet," which duplicates 11th Street, the Amazon-like website in Korea, lists presidential candidate Moon Jae-in's positions on various national issues like items for sale.
The "items" are categorized in three sub-categories – Best, Special, and Local. On each page, one can find details of the candidate's stances on domestic issues. For instance, clicking the "Men and Women – Same Wage Same Treatment" item directs one to details about Moon's position on the gender wage gap in Korea. "Buy Now" button functions as a "Like" button and "Product Review" page is used as space where people can write their opinions about his policies.
By listing his policies and stances as items to shop, South Korean presidential candidate Moon Jae-in approaches to the members of the younger generation, who easily navigate themselves through such platforms.
The "online shopping mall," which is planned by young volunteers in their 20s and 30s, went viral instantly, even bringing the server down due to too many visitors.
By Heewon Kim