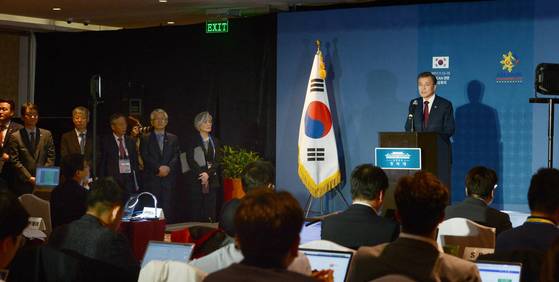 South Korean President Moon Jae-in visited a press center in Manila on November 14, wrapping up the Asia-Pacific Economic Cooperation (APEC) meeting schedule with a press conference.
At the press conference, President Moon discussed the accomplishments of the meetings. However, one fact hasn't been mentioned about what he has done for the past eight days – that Moon apologized Vietnamese citizens for Korean soldiers' war crimes during the Vietnam War.
In the morning of November 11, President Moon had a summit with Vietnamese President Tran Dai Quang, where he left out the discussion about the Vietnam War. Instead, their meeting was focused more on the activated cooperation in the future.
In the evening of the same day, President Moon and Chinese President Xi Jinping held their second summit, where they agreed to "normalize exchanges and cooperation in all areas."
Around that time, the opening ceremony for Ho Chi Minh City–Gyeongju World Culture Expo 2017 was held at Nguyen Hue Street in Ho Chi Minh. Launching the Expo, a 3-minute long video of President Moon's celebration message was screened. In the video, the South Korean president says, "South Korea is left with debts in heart to Vietnam," implying Korean soldiers' brutal killings of Vietnamese civilians during the Vietnam War.
According to an insider from the executive office, there had been a meeting about the apology before Moon's schedule in APEC leaders' meeting.
"President Moon wanted to deliver a clear message about Korea's involvement in the Vietnam War," said him. However, as Moon's schedule to visit Quang Nam Central General Hospital, where he planned to deliver the message, has been canceled due to a schedule complex, he instead included the message in the celebration of Ho Chi Minh City–Gyeongju World Culture Expo.
The phrase, "debt in heart," Moon used in the message was originated from former President Roh Moo-hyun's speech he delivered after his visit to Ho Chi Minh Mausoleum in Hanoi.
Original article by Kang Tae-hwa