If you plan to visit South Korea for the summer of 2016, you would be wise to visit a seaside resort (해수욕장). The South Korean coastline has its own characteristics that typical beaches in other countries do not possess. In America, it is often that many set up volleyball nets to soak up the sun. However, in Korea, it is usually tough to see the sand as many come to avoid the sun by putting up parasols to create shade. To add onto the differences, groups of Koreans enjoy sitting on the towels eating fried chicken, while other countries tend to stray away from actual meals and chew on munchies while they rest. However, if you like your beaches serene, Koreans do have their own share of beautiful beaches that you can take pictures of and share with all your friends.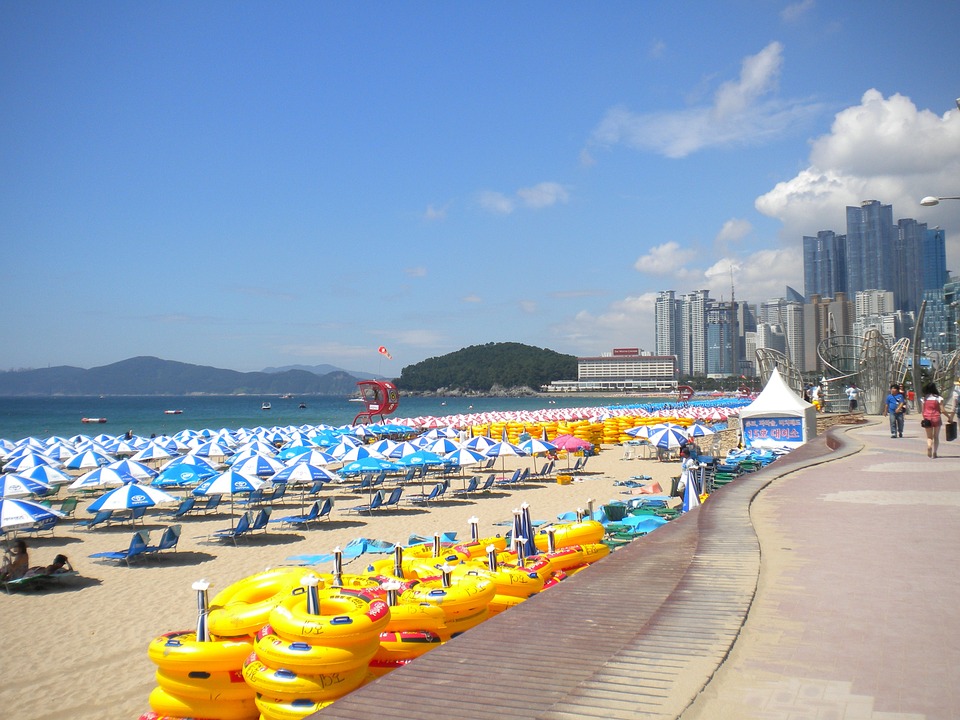 Busan is known as the beach city. Haeundae Beach (해운대해수욕장), located in Busan, is the most famous beach in Korea that many foreign tourists, as well as regular visitors. With a maximum capacity of 120,000, the area teems with people who have come to swim and people-watch. The beach is surrounded by the Haeundae Special Tourist Zone, which provides many marine attractions such as the SEA LIFE Busan Aquarium and fresh seafood restaurants. Due to its numerous activities, Haeundae is overcrowded all throughout the summer; although sometimes there are too many people to fully experience the beach, tourists still desire to visit in order to have the Haeundae experience. Do not forget to rent a parasol and a yellow tube, each for 7,000 won, to fit right in with the rest of the crowd.
Jeju Island is another vacation area that is extremely popular, so much so that newly-wed couples fly here for a honeymoon. Surrounded by water, it is naturally a beautiful place, and Hyeopjae Beach (협재해수욕장) is a prime example of such beauty. Rather than going for a swim, this beach is mostly for sightseeing because of its phenomenal scenery, especially during sunset. With Hanrim Park, another recommended tourist site, only a few minutes away, people stop by to take multiple selfies in the attempt to capture the calm beach. Although it is less crowded than Haeundae, it is nonetheless attractive in its own way; it is quite calm and great for basking, if you prefer a quieter beach.
Last but not least, Gyeongpo Beach (경포해수욕장) located in Gangneug, also offers tranquility. The particular beach is in between a lake and the ocean, making it that much more unique. If you want to try camping at a beach, this is the place to do so because it has both the perfect sunrise and sunset. Like the beach in Jeju, Gyeongpo Beach is not often the main attraction – rather, tourists visit to see the ancient buildings adjacent to the coast. However, it is definitely a plus that there is a beach that has such wonderful scenery.
Although it would be nice to state that Korean beaches are perfect, in reality, they have their drawbacks. Like in other countries, Korean beach businesses tend to overcharge their customers. Moreover, there have been many incidents of lost children and deaths at these seaside resorts, so do not let go of your friends and family, especially during the summer season. In addition, both men and women should be careful of hidden cameras that do target inappropriate areas of the human body. Having fun is important but safety comes before all!
By Eunice Kim