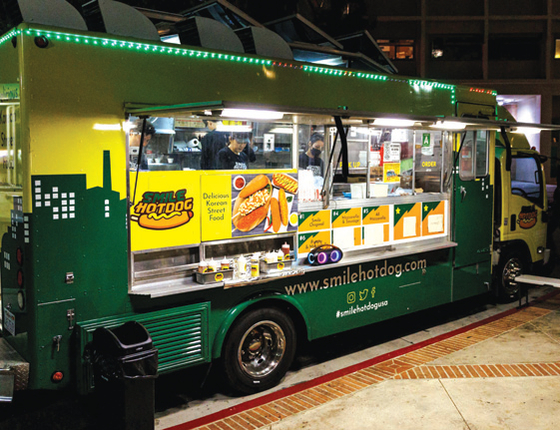 Korean-style hotdogs are gaining popularity on college campuses.
The UCLA newspaper, the Daily Bruin, reported on May 30 that the Smile Hotdog food truck, operated by a Korean-American father and son, is bringing smiles to students.
The truck is owned by Peter Woo and his son, Jacob. Woo shared that his business was inspired by his childhood visits to Korea. He wanted to introduce a local South Korean recipe for rice-battered hotdogs to the United States.
"I had to get these corn dogs… to somebody who could actually taste it and have the same experience that I had," Woo said.
The food truck has been operating since October of last year. The original Smile Hotdog started in 2019 with a storefront in Downtown Los Angeles.
According to Woo, the pandemic led him to open a food truck in addition to the existing restaurant to attract more customers.
A UCLA dining staff member invited his business to the university after spotting the food truck in downtown L.A.
"It's good to see Korean students here at UCLA because we serve rice cake… and a lot of the Korean students know it from their childhood," he said.
His son, Jacob, initially found the business' name cheesy but has come to realize that serving food alongside his father brings him joy.
"It's kind of cool because over time I got to develop friendships with students who are coming on a more regular basis," he said. "I was a student too – there's so much excitement when you see a new food truck or you get to try different food outside of what the school menu is offering."
Smile Hotdog also has a website, smilehotdog.com. The store is located in the Little Tokyo Marketplace near Alameda St. in Los Angeles. The menu includes a variety of hotdogs, tteokbokki, fries, and lemonade.
BY YEOL JANG [support@koreadaily.com]