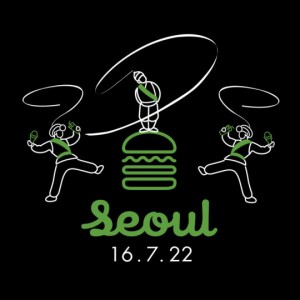 NYC's famed burger joint, Shake Shack, is opening its first South Korea location on July 22nd.
The first Shake Shack in Korea will be located in Gangnam, the most populated and the most trendiest community in Seoul (Yes, it's THE Gangnam from Psy's 'Gangnam Style').
Partnered with SPC Group, a leading global food company based in South Korea, Shake Shack is aiming at opening a second location in Seoul by the end of the year and increasing the number to 25 by 2025.
Shake Shack Seoul will feature most of the signature items, including the Shack Burger, Smoke Shack, and Shack-cago Dog. Custard and shakes will also be available at the Seoul location.
Processing facilities, recipes, ingredients, as well as prices will be transferred almost identically from U.S. branches. The Shack Burger, for example, is 6,900 KRW (6.04 USD), which is slightly more expansive than $5.29 of U.S. branches.
Without meal options available, however, Shake Shack goes a bit pricy for a fast-food burger joint. SPC Group explains that their intention is not to offer a grab-and-go meal option, but to bring and stimulate culture through Shake Shack.
Hur Hee-soo, Senior Managing Director of SPC Group, has brought Shake Shack to Korea himself. When Hur first suggested in 2012, there were only about 10 locations even in the U.S.. Shake Shack CEO Randy Garutti thought that "he's crazy." It took Garutti four years to change his mind.
With the landing of Shake Shack, where burgers are made with quality meats and served with craft beers or wines, premium burger joint market in Korea is expected to be on fire.
Last year, McDonald's Korea introduced "Signature Burger," which is a made-to-order burger that allows customers to choose the toppings. Other franchises, including Lotteria and Mom's Touch, are upgrading their burgers with quality ingredients and made-to-order system.
These changes increasingly adopted in the burger joint market in South Korea are changing consumers' perception of burgers from junk food to a fine-dining option.
Originally written by Jung-yeon Hur
Translated and edited by Heewon Kim