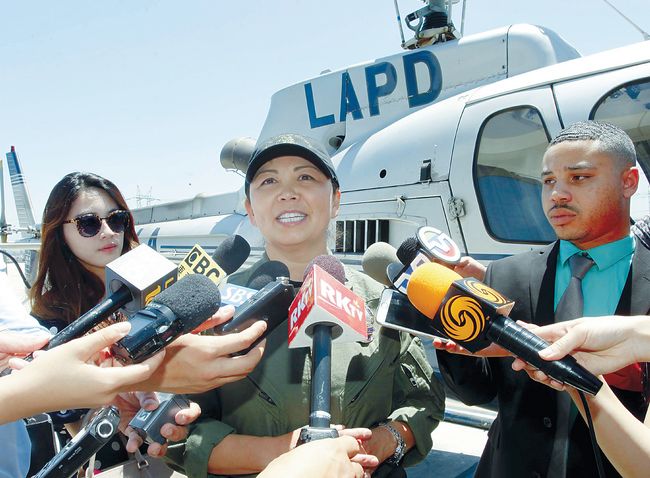 The Los Angeles Police Department has named Korean-American Sgt. Janet Kim as its supervisor pilot, making her the first Asian-American woman in the history of the LAPD to serve in that position.
On June 15 at the LAPD's Air Support Division Headquarter located in Downtown Los Angeles, Janet Kim had her Command Pilot Wings Ceremony. City Councilmember David Ryu and LAPD Assistant Chief Beatrice Girmala also made appearances at the event to celebrate Sgt. Kim's promotion.
Having completed her training successfully, Sgt. Kim is to manage LAPD's pilots as the command pilot. In an interview, she shared the difficulties she faced during the intense 15-month training, especially given her lack of background knowledge in flight. "Learning details of mechanics was the biggest obstacle," said Sgt. Kim.
However, she did not hide her excitement over finally snagging her dream job, either.
"I think I've always had that stubbornness," said Sgt. Kim. "If someone told me I couldn't do something, that actually makes me more determined to do it."
"I, who have disadvantages as an Asian-American and a woman, have successfully become a pilot, so I think anyone can achieve his or her dream," Sgt. Kim added.
Sgt. Kim graduated from Biola University with a bachelor's degree in Education and has started serving in LAPD since 1998.
Original article by Cho Won-hee
Translated by Heewon Kim