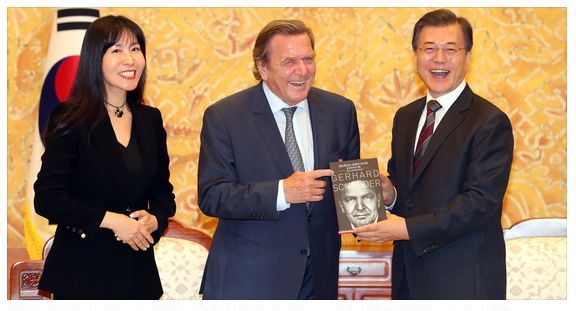 On the 21st, German magazine 'Bild' announced ex-chancellor Gerhard Schröder is getting married to a Korean businesswoman, who is 25 years younger than him.
The article says that Schröder (73) first met Kim So-yeon (48) about 2 years ago at an international business conference. Kim is the manager of a Germany development agency's Seoul branch.
The news spread as the former chancellor's ex-wife Doris Schröder-Köpf wrote on Facebook about her split from him.
Schröder-Köpf wrote that one of the reasons of their divorce last year was "Kim So-yeon".
Kim has worked as Schröder's interpreter multiple times. She also recently supervised his autobiography, which was translated and publicized in Korea.
Meanwhile, Schröder visited Korea earlier this month. On the 11th, he went to Gyeongki-do Gwangjoo's nursing home to visit elderly comfort women from the Japanese era. He compared them with Anne Frank and give each of them a big hug. Anne Frank is famous for 'Diaries of Anne Frank', which she vividly described the cruel reality of German Nazis during the 2nd World War.
He also wrote on the visitor's book at the nursing home: "My tears fall thinking about these women who suffered so much pain."
Lastly, the former Chancellor told the reporters, "I heard the news that you are making a plan to grant these comfort women a Nobel Prize. I think they totally deserve and I actively support."
Original article
by Yeo Hyun-goo
Translated by Audrey Joung