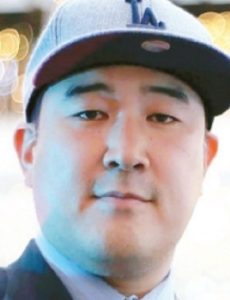 Sang Gyun Park, president of the nonprofit social service organization YouStar Foundation, passed away at home of a heart attack on September 11 at the age of 52.
A funeral service will be held at 1 p.m. on September 23 at Hankook Mortuary in Los Angeles, followed by a burial service at 11 a.m. on September 29 at Olive Lawn Memorial Park in La Mirada.
Park frequently sang about dreams. He made his debut in 1994 as a guest singer for the renowned group Toy with the song "I'm by Your Side." He later clinched a gold medal at the MBC Gangbyun Music Festival in 1996 with the song "Geucho(Yeah)."
In addition to his musical career, Park ventured into media. He served as a reporter for Radio Seoul and Channel 18. In 2013, he secured the initial investigation report from the Washington D.C. Police Department, shedding light on the sexual misconduct investigation of former presidential spokesman Yoon Chang-joong under the administration of South Korean President Park Geun-hye.
Transitioning from journalism, Park founded Youstar Media, marking the commencement of his dedicated social service work. He orchestrated the "Miracle Concert" seven times, featuring prominent singers like Ha Dong Qn, Jang Hye Jin, and Kim Hyung Jung, aiming to aid patients battling severe diseases such as blood cancer and leukemia.
A man of immense compassion, Park's life journey epitomized hope. In 2016, he celebrated the 20th anniversary of his debut as a singer at the Ezekiel Theater in Los Angeles. All the proceeds from this event were channeled to support the deaf and other underrepresented groups.
Subsequently, Park established the YouStar Foundation, actively assisting Korean Americans facing mental health challenges. He partnered with various nonprofit organizations to launch initiatives like suicide prevention campaigns and mental health seminars.
Park was an alumnus of Yeongdong High School and Yonsei University, where he studied Political Science and Diplomacy. He is survived by his wife, Soh Yun Park (CFO of Choi Hong Lee & Kang LLP), and a daughter.
BY YEOL JANG [jang.yeol@koreadaily.com]