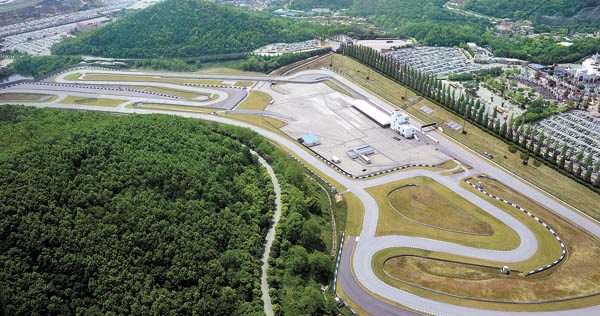 The Speedway motor racecourse at Everland, an amusement park run by Samsung C&T in Yongin, Gyeonggi, will be used as a testing area for self-driven or autonomous vehicles by Samsung Electronics.
The Gyeonggi government and Samsung Electronics said the company will remodel Speedway to make it a testing ground for autonomous vehicles. Crossings and various kinds of actual road conditions will be built in order to test safety and reliability of self-driven cars.
Speedway, the first paved racecourse in Korea, opened in 1995, and has become a mecca for local race car lovers. Samsung Chairman Lee Kun-hee often visited the course and drove a sports car on it.
However, since 2009, it has only been used for test drives or promotional events by auto-manufacturing companies.
"It is very difficult to find new space to build a racecourse to test autonomous vehicles or get a license to operate one," said a representative of Samsung. "Samsung already owns Speedway, so we just need to add some features to the existing racecourse."
Samsung studied Mcity, a full-scale autonomous vehicle test facility at the University of Michigan. Mcity is a 130,000-square meters (32 acre) outdoor laboratory opened in July and it includes traffic circle, an underpass, roundabout, bridge and so on. Ford started to test automated vehicles at Mcity last month.
There is a test driving course run by the Korea Transportation Safety Authority and local automakers in Korea. However, its main purpose is to conduct test drives for traditional cars rather than self-driven vehicles.
IT industry insiders expect Samsung to use Speedway to test its software and hardware technologies, including cameras, radar and operating system. Those technologies play a significant role in autonomous vehicles.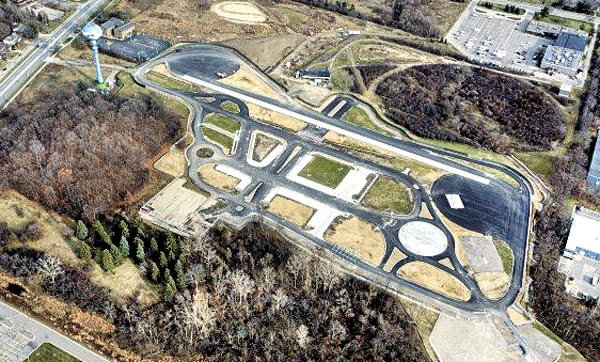 Korea's auto industry needs to catch up with other countries such as the United States and China that have advanced autonomous vehicle technologies. Some expect the racecourse to be used to test future transportation systems through which vehicles communicate with a traffic control center, traffic lights and closed-circuit television systems.
The Gyeonggi government plans to support Samsung to create synergy with Pangyo Digital Valley, which will have the world's first real road that allows self-driven vehicles and ordinary cars. Gyeonggi Gov. Nam Kyung-pil recently announced that the road will be roughly 2 kilometers (1.2 miles) long with two lanes in each direction.
"We have finished a number of preliminary discussions," a representative of the Gyeonggi government said. "The province will attract major companies that are into autonomous vehicles and host various exhibitions and racing events."
Gov. Nam and Lee Jae-yong, vice chairman of Samsung Electronics, went to the same high school and it is said they have a good relationship.
"We are at an early stage in this autonomous vehicle business and the company does not have specific plans or dates decided yet," Samsung Electronics said in a statement.
Yongin Everland Speedway
Location: You-un ri, Pogok Eup, Cheoin-Gu, Yongin, Gyeonggi
Length of the track: 4.5 kilometers
Average width of the road: 12 meters
Korea's first paved racecourse
Opened in 1995 with the name Yongin Motor Park
Renamed Everland Speedway in 1998
Extension work began in June 2009
BY SOHN HAE-YONG [kim.youngnam@joongang.co.kr]