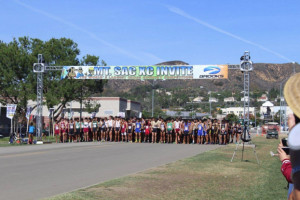 On October 23 and 24, cross country runners from all over Los Angeles County competed at Mount San Antonio College (Mt. SAC) in Walnut, California.
The 68th annual Mt. SAC Cross Country Invitational prepared runners for the LA section of the California Interscholastic Federation (CIF) Cross Country Championships from November 12 to 21 at Pierce College in Woodland Hills, California.
The largest cross country invitational in the United States, the annual event included over 20,000 participants running its famous course. Cross country teams in elementary, middle, and high school divisions as well as community college divisions trained several months in preparation for this prestigious invite.
"You can't say you're a cross country runner if you haven't run Mt. SAC!" North Hollywood Cross Country Coach John Ralles said in an interview with JSR.
Due to the immense number of runners, around 140 separate races were split over the course of two days. Gunshots marking the start of races went off every eight minutes, and thousands of racers who were not running at the moment were able to watch the current race on the live webcast on a huge screen.
"Even though I had to wake up at 4 am to get to the race, I had a lot of fun," said Cleveland High School junior Stevie Steinberg, who is on the school's varsity cross country team. "It was a pretty well-organized race, there were some really solid bonuses like a jumbotron for tweets, a massage place, many vendors, and seriously well-stocked Gatorade booths. It was a really good experience."
Prominent among the hills on the Mt. SAC course are "Poop Out Hill" and "Reservoir Hill," along with a set of zigzag trails called switchbacks that appear in the second mile. Cross country teams from all over the county trained for several months to overcome these challenging hills and switchbacks.
"My training this year helped me a lot," Steinberg stated. "I've been doing specific hill training on Fryman Canyon to build up endurance on slopes, and I feel like that extra experience gave me an extra edge."
Many coaches stress the importance of every practice in preparing for the several invitationals and weekly meets to come. Runners aim to improve their personal record times in every successive meet.
"This year's training, even though it's been greatly hampered by heat advisories and bad conditions, was important in helping me drop nearly two minutes from my time last year and medal in my race," Steinberg concluded.
By Joyce Kang
Original Article: http://www.jstudentboard.com/reporter/media-sports-and-entertainment/runners-compete-at-mt-sac/