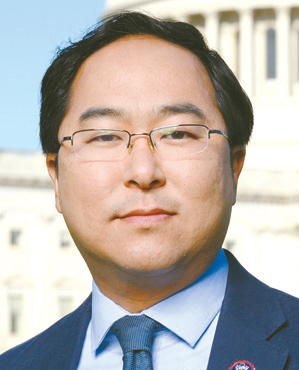 "I started my political career six years ago with the heart of a father who cares about the kids who are growing up, and that's why I'm running for the U.S. Senate this time."
According to the interview with MSNBC on September 25, "Rep. Andy Kim, D-N.J., has announced that he plans to run against Sen. Bob Menendez, D-N.J., who is facing mounting pressure from Democrats to resign after he was charged with bribery in a recent indictment filed in Manhattan federal court."
Andy kim decided to run for Senate because he wanted to clean up corruption and represent his constituents who believe they need a new leader.
Since announcing his candidacy, key figures in the New Jersey Democratic Party have thrown their support behind Kim.
"We have enjoyed a great working relationship since being on the campaign trail during his initial run for office," New Jersey Assemblywoman Carol Murphy said on September 26. "I've appreciated his advocacy fighting for the priorities of New Jersey's 3rd congressional district and have full confidence he will represent us well in the United States Senate."
Murphy and Senate Majority Whip Troy Singleton (D-Delran) quickly expressed interest in seeking Kim's open House seat.
As support for Kim continues to build, attention has also turned to the field of contenders who have declared their candidacy.
Tammy Murphy, the wife of New Jersey's governor, is reportedly running for the Senate seat. Local media outlet The New Jersey Globe reported on September 26 that "In the days following Bob Menendez's indictment last week, New Jersey First Lady Tammy Murphy has received calls from political advisors and key Democrats locally and in Washington about running for the United States Senate in 2024."
The March 2024 primary is set to feature candidates including Kim, Tammy Murphy, U.S. Representative Frank Pallone Jr., Josh Gottimer, Mickey Sherrill, potentially incumbent Bob Menendez, and State Senate Majority Leader Teresa Ruiz. The Republican Party also has three to five contenders.
New Jersey hasn't elected a Republican to the U.S. Senate since 1972. But experts say it's hard to predict the outcome if Democrats run on a campaign with concerns such as corruption and complacency.
Meanwhile, calls for Menendez's ouster have been growing louder amid corruption allegations. On September 26, Senator Cory Booker, a senior Democrat and fellow New Jerseyan, called on him to step down.
"For nearly a decade, I've worked in the Senate alongside Senator Menendez. As New Jersey's junior Senator, I imagine that I've had more professional experiences with him than most others, and I've witnessed his extraordinary work and boundless work ethic." Booker said. "Stepping down is not an admission of guilt but an acknowledgment that holding public office often demands tremendous sacrifices at great personal cost. Senator Menendez has made these sacrifices in the past to serve. And in this case he must do so again. I believe stepping down is best for those Senator Menendez has spent his life serving."
So far, 11 Democratic senators have called for Menendez, a three-term congressman, to step down, and that number is expected to grow. Menendez said on September 25 that he has no intention of stepping down. However, if he were to resign during his term, New Jersey law requires Governor Phil Murphy to appoint a member to fill the remainder of the term.
BY BRIAN CHOI    [ichoi@koreadaily.com]