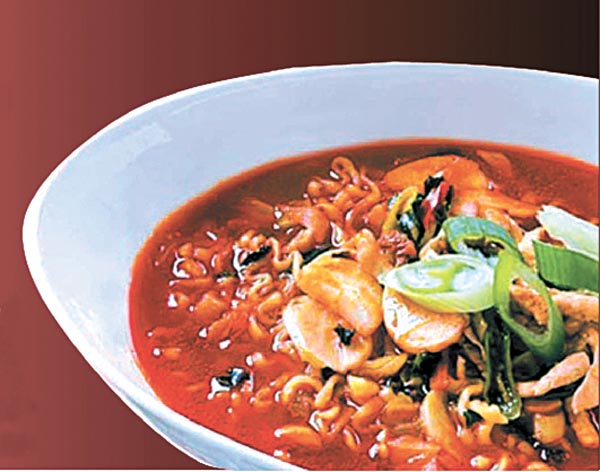 The local instant noodle market is reaching a boiling point, as more high quality products at relatively higher prices are threatening traditional cheap staples like ramen.
Instant versions of Chinese noodles like jjajangmyeon (noodles with black bean sauce) and jjambbong (spicy noodle soup with seafood), are becoming fast favorites in Korea.
With customers saying the instant options are comparable to noodle dishes sold in actual restaurants, more and more people are turning away from ramen as a staple snack, even though the new Chinese-style noodles are typically about 500 won (50 cents) more expensive.
Nongshim's jjajangmyeon product "Jjawang" was the fourth-most sold item in the instant noodle market last year, according to Nielsen Korea, a market research firm. Jjawang was only introduced on the market last April, but its sales reached 94 billion won within eight months.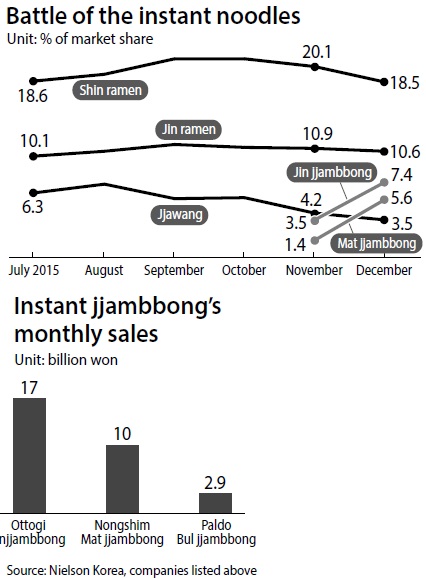 Ottogi introduced its high-end instant jjambbong product "Jin jjambong" in October. Within two months of its launch, it has become 17th most-sold instant noodle product in Korea.
Jjawang was the first to spur the craze, with customers saying its thicker noodles tasted like actual jjajangmyeon from Chinese restaurants.
As a result, Jjawang repeatedly broke sales records in the instant noodle market, selling 16 million packages within 50 days of its launch and 40.2 million in three months.
Similar items were quickly introduced.
Ottogi launched "Jin jjajang" in July, and Paldo and Samyang each introduced "Paldo jjajangmyeon" and "God jjajang."
But as the weather has gotten colder, consumers have become increasingly interested in jjambong.
Ottogi launched "Jin jjambbong" in October and its sales growth is similar to that of "Jjawang" when it was first introduced – 10 million packages sold within 50 days, and 40 million within three months.
Nongshim introduced "Mat jjambbong" in November, and its market share is growing rapidly. More than 10 million bowls were sold within a month and 27 million had sold within two months. Samyang and Paldo followed suite with their "God Jjambbong" and "Bul jjambbong," respectively.
"Sales of 'God Jjajang' weren't as great as we expected, but more than 3 million 'God jjambbong' are expected to be sold this month alone," said a representative for Samyang Ramen.
"We are falling short of demand, but this month's sales will still be around at 3.3 billion won," said a representative for Paldo.
One of the secrets to the success of the new noodles is that most are actually prepared in pots similar to a wok, a pan commonly used to cook food over high heat in Chinese cuisine, which gives them a realistic flavor.
Nongshim uses a "high heat cooker," which stir fries vegetables for the product at 200 degree Celsius (392 degrees Fahrenheit).
Ottogi also uses a pan similar to a wok, adding more flavor to the product with a drop of chili oil.
Local entertainment programs, including JTBC's "Please Take Care of My Refrigerator," a popular show on which chefs must prepare a dish within 15 minutes using ingredients celebrities have in their house, has also helped these products become popular, as Chinese food is often featured.
Paldo, for example, has a picture of Lee Yeon-bok, a chef and a guest of the show, on its new products.
Social networking services also have played key roles promoting these instant Chinese noodles, with many taking selfies while eating the products and posting them to their pages.
The popularity of the higher-end options has helped vitalize the instant noodle market as a whole. Totals sales exceeded 2 trillion won ($1.67 billion) last year, rising from 1.97 trillion won in 2014.
As these new options are more expensive than traditional ramen products, profits also have grown.
Due to the popularity of "Jin jjambbong", Ottogi has climbed to second place in the local instant noodle market.
BY KOO HUI-LYUNG [kim.youngnam@joongang.co.kr]