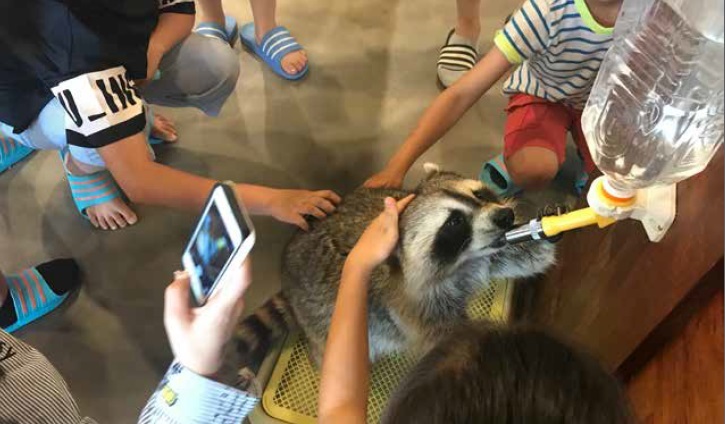 While various animal cafes are still prospering in Korea, an animal welfare awareness organization has reported the poor sanitary condition and inappropriate management of such businesses.
Animal cafe refers to a business where visitors can enjoy food and beverages while also get access to physical contacts with animals. According to Aware, the animal welfare awareness, research, and education organization, many of the animal cafes are poorly managed, creating environments dangerous to both animals and humans.
According to Aware's report released on November 7, at least 35 animal cafes are displaying wildlife animals such as raccoons and meerkats. The organization had site investigations at nine places located in Seoul and Gyeonggi areas, where a total of 41 raccoons and 26 meerkats were found onsite.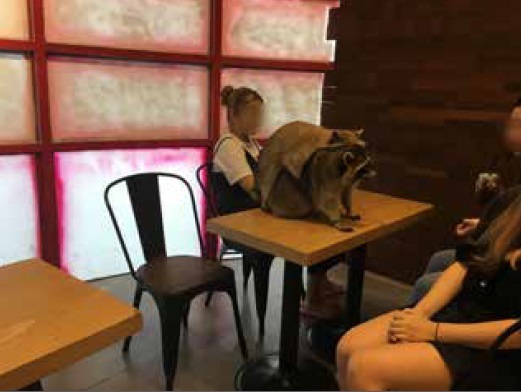 The report points out that animal cafes leave environments with a high chance of zoonosis. At six of the nine businesses, food and beverage service areas were not separated from the areas where animals had access to. Only four animal cafes placed hand sanitizers, and one among them advised visitors about the use of sanitizers.
While such environment is not safe for both humans and animals alike, the problems in animal management were even more serious. Businesses had up to six different kinds of animals, but none of them kept their cages separate. Only one of the nine cafes provided a shelter where animals can keep themselves completely away from visitors.
Three cafes had serious animal welfare issues. At these places, animals that were not on display were kept in cages, where several animals were found locked in small cages that leave no space for movement.
The average time of display was 10 hours per day. Animals with injuries or showing abnormal activities were found at a significant number of businesses.
"Lowered immune system caused by stress leave animals defenseless against diseases," said Aware's Lee Hyung-joo, emphasizing the need for the regulations to protect wildlife animals.
Original article by Kang Chan-soo