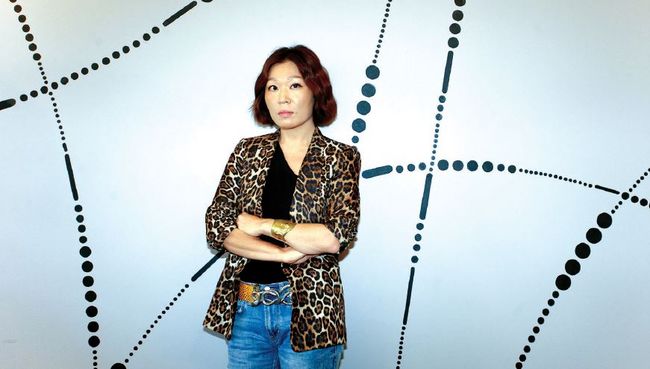 Perhaps the person who makes a living out of a passion is subject to the world's strongest envy. Some say that even the biggest passion turns into stress once it becomes a profession, but that does not apply to everyone. One person exemplifying that exception is Amy Kim, 38, who founded the interior design business AK Design Network (akdesignnetwork.com).
The Korea Daily met with Kim, who chases her own dream instead of others' perceptions of her, at her Downtown L.A. office.
# Quirky art student's passion
Kim moved to Fullerton, Calif. in 1989 with her family while she was a third grader. She later graduated from Orange County School of the Arts (OCHSA) and majored in illustration at Pasadena Art Center.
"I've always liked making something out of an empty bottle or paper since I was really young," Kim said. "I don't think studying was ever my thing. I've lost myself while attending a traditional high school and transferred to an art school when I was a sophomore. It was possible only because my parents supported and understood me."
Soon enough, Kim became a popular student at her high school. Her fresh ideas fascinated many of her classmates. Anytime she submitted her assignment, plaudits came pouring in from the teachers.
"I once drew on my arm instead of a canvas," Kim said. "I even offered my chemistry teacher that I'll create my own paint for an assignment. My friends said I was quirky because of that."
Kim's artistry began shining even more when she began attending college in 1998. She began writing a daily journal on a plaster. Once she had a collection of them, the school offered her to hold an exhibition.
"I probably spent about four hours every night while my face and clothes were covered with paint," Kim said. "I was still so happy. I really think I was crazy about art."
# Chasing her dreams
After graduating in 2002, Kim was hired by a famous animation studio. However, she began to lose interest as the repetition of working on the same drawing soon turned tedious. She quit after just four months and became a freelance graphic designer. Kim then worked two years as a home décor designer and another two years as a marketer and designer for a furniture business.
"Both of my employers were mid to small sized businesses," Kim said. "Other than working as a designer, I had to play the role of a production manager and a promoter. It was really hard at the time, but that experience has been hugely helpful now that I'm running my own business."
Kim's wealth of experience eventually helped her to begin working as a design team manager at SBE in 2006. SBE is now headquartered in L.A., operating the SLS hotel and Japanese restaurant Katsuya along with 20 other hotel and culinary businesses. When Kim started working there, SBE is merely a budding business.
"It was initially a three-man team," Kim said. "We still launched four hotel and restaurant brands in just a year, so we did work tirelessly. We worked seven days a week from 7 a.m. to past midnight."
During her time at SBE, Kim received the Young Designer Award. Three years later, she was promoted as Viceroy Hotel's marketing and interior manager.
# Adding artistry to interior design
Kim reached the turning point of her life in 2010 when she received a call during a time when she was traveling around the world for work.
"An entrepreneur I met while I was working at SBE wanted to meet me," Kim said. "I was asked to work on the interior design of a candy store themed restaurant called Sugar Factory that was launching in Las Vegas. Anyone who has seen Sugar Factory would probably know, but that business at the time was a $30 million giant with a nightclub.
Kim signed the contract on the spot. On the very next day, she went to work and submitted her letter of resignation. Kim was living in a two-bedroom apartment in Hollywood at the time with her friend. She turned the property into a personal office and hired two freelance employees.
Sugar Factory launched successfully only six months later. After working on Sugar Factory, Kim was introduced by the same entrepreneur to work on Planet Hollywood Hotel's nightclub renovation. That is how Kim was able to open her own office under the name AK Design Network.
"I think the reason why many luxury brands like my design is not because my work is simply aesthetic," Kim said. "It's probably because my work offers inspiration and emotions. This may be related to the fact that I studied pure arts in school."
AK Design Network soon became a rising star of the industry. In 2011, Kim designed British chef Gordon Ramsay's L.A. restaurant The Fat Cow's interior. She also designed Ramsay's Bel Air house. As Kim began to establish a successful career, she started to work on various hotel and condominium interiors in L.A., Las Vegas, and Florida.
She began to expand internationally when a Hong Kong-based corporation offered her to join its project to build a mega sized casino in the Philippines and Macau. Kim also designed the interior of a hotel in Shanghai, followed by working on the Marriott Hotel's restaurant in Dubai that was worth $30 million.
She is still extremely busy as she is now working on a Korean restaurant that is set to open both in L.A. and Las Vegas. Being a workaholic that she is, it only made sense to assume that she must have a bigger plan in mind. However, her response was completely unexpected.
"I've always taken on new challenges," Kim said. "But I never had a specific plan. I've always just stayed true to my feelings at that very moment. If I absolutely had to pick a specific goal, I'd like to launch my own hotel brand in the future. That's my dream."
Perhaps it is true that there is no formula to achieve a dream. Today is a product of the many days we have lived. That is how dreams have been achieved.
By Joohyun Yi