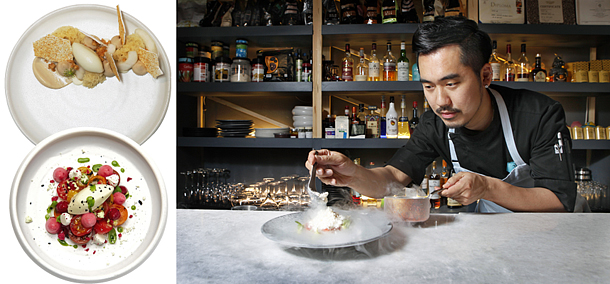 Often times, the only thing you remember as you step out of a restaurant after having consumed multiple plates of impressive food is the dessert. This being the case, some have imagined a meal where every plate served is a different dessert.
The dream of substituting your meal with something sweet comes true at the JL Dessert Bar in Gangnam District, southern Seoul. This place doesn't stop at offering a la carte desserts such as cakes and ice cream like other dessert shops. It serves curated dessert plates often found at fine-dining restaurants paired with alcoholic beverages, yet at a much cheaper cost.
"Just like Koreans often think of pairing soju with their pork barbeque, why don't we make the same happen for dessert so that certain desserts can bring out the desire for certain drinks?"
That was the thinking that drove Chef Justin Lee, who has spent years working at restaurants in Korea and overseas, to become the mastermind behind the idea of mixing curated desserts and drinks. He is not hesitant to get out of the comfort zone of most pastry chefs, and uses ingredients that do not usually make it on to a dessert plate, such as avocados.
"Use all the ingredients I can on a dessert plate," is the idea that pushes Lee, who transformed himself into a pastry chef after about 10 years cooking Italian food. He desperately wanted a job at Clooney in New Zealand and the only possible position he could get was one making dessert. He found his new passion immediately – working away from fire during the summer months was definitely a plus – and it was then that he decided to put his full focus into making dessert.
Like many chefs who focus on making food using only seasonal ingredients, Lee looks to what is fresh when making dessert. He has taken baby steps when mixing non-fruity flavors alongside sweet ones for those who may be hesitant to try dessert with unfamiliar ingredients. One of the steady sellers at JL Dessert Bar is a plate of green, orange and red color cherry tomatoes with yogurt and basil alongside parmesan cheese ice cream. The newest item on the menu is watermelon with avocado.
And just as people pair drinks with their foods, Lee offers drinks that go best with each of his desserts. The tomato plate, which is more savory with a hint of sweet, is paired with a dry bubbly drink from Spain, and the watermelon dish is paired with a cocktail made from Campari to match the color. Diners can also choose their own drinks to go with their sweets, from wine to whiskey. Since the restaurant only has one option for beer, but diners wanted more options, the chef is considering making more craft beer available.
The dessert bar has bar stools and a wall filled with bottles of alcohol alongside chocolate and other ingredients used to make dessert. Like regular bartenders, Lee talks to his guests to learn about their tastes while he plates their food in front of them. Specialty cakes can be made here, with flavors and textures that customers choose – Lee often pulls ingredients down from the wall to explain how he gets his flavors in each dessert and to show what can be combined in a cake. Small cakes and macarons are always available for those wanting to take their dessert home.
Since a bar-style dessert spot is rare, it has become a hot spot among professional chefs and those in the food and beverage industry. Many come to learn how Lee works, asking for everything available on the menu and even asking to collaborate on pop-up events. Lee recently did an event pairing desserts with traditional Korean liquors.
"I wanted to show that anybody can become a leading force in the industry if they develop [recipes] with their own touch and color," said Lee, who starts a dessert-making class today and will teach students one of the recipes currently on the menu.
Some international chefs are looking into doing pop-up events together with Lee so that they can focus on food while Lee focuses on dessert. Next month, a team from Meta in Singapore will be coming to Korea to create dishes with Lee for local diners here. Lee will also travel to Singapore to meet locals there. A U.K.-based media company recently asked to visit to his bar next month to learn more about his creative desserts.
"Industry chefs have contributed a lot in making this bar stay afloat by visiting and encouraging others to visit," said Lee. "I hope to continue working with them and offering something fresh to visitors to the bar."
Chef Lee, who previously worked in Australia and New Zealand, wants to stay better connected with the international culinary community. He is currently making an English website and hopes to open the second location of his dessert bar in Singapore after a couple of years.
BY LEE SUN-MIN [summerlee@joongang.co.kr]
From Joongang Daily.