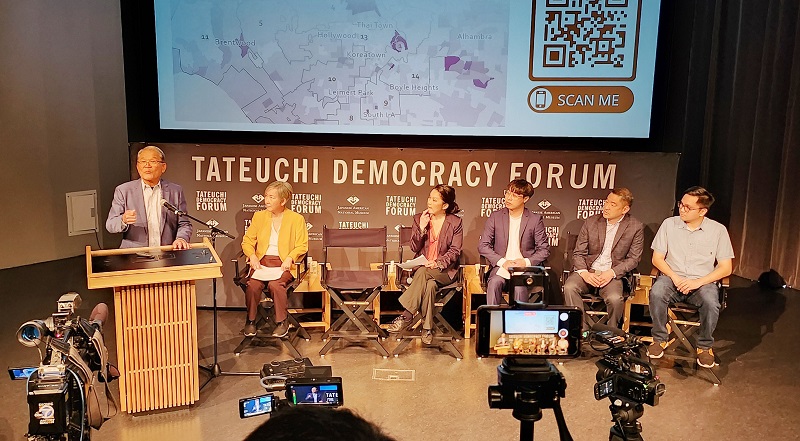 Asian Americans make up only 12% of the city's population and 7% of registered voters. But they've been a decisive casting vote in election after election, which is why we need to mobilize even more."
A press conference analyzing Asian American voter turnout in Los Angeles took place at the Japanese American Museum in downtown L.A. on May 30.
Titled "Asian American, Latino, Black and White Voters in Los Angeles city elections," Natalie Masuoka, a professor of political science at UCLA, and Nathan Chan, a professor of political science at the College of the Royal Mountains, presented their joint research.
The panelists included William Fujioka, chairman of the Japanese American Museum; Travis Kiyota, senior vice president of East West Bank; and Ian Kamus, community services co-director of the Pilipino Workers Center.
"In major district elections, a majority of Asian American voters have always played a decisive role in electing their preferred candidates," said Masuoka. "However, considering their population and voter share, more needs to be done, as there have been only 20 Asian American candidates running for city executive and city council positions in the last decade."
Currently, Asian Americans make up 11.8% of the city's population, and only about 50% of them are registered voters. There are currently two Asian American council members (John Lee and Nithya Raman) in the City Council's 15 districts. The path to an Asian-American LA City Council member was paved in 2015 when David Ryu was elected for the first time.
In addition to Asian Americans, the current City Council is comprised of four Latinos, four whites, three blacks, and two others.
"The overwhelming Asian American support for Grace Yoo in the 2020 District 10 election (80%) and the support of Asian American voters for John Lee in District 12 (94%) demonstrated the potential for Asian American cohesion to make a difference in elections," said Chan. "This influence continues to be seen in Districts 10, 13, and 14, where Asian American voters are evenly distributed."
"With Koreatown split into two districts, and with many other Asian American voters in Filipino town and elsewhere, we need to work on redistricting to ensure their voting power," said Fujioka, who has served as a public servant for more than 40 years. "Academics and the media should investigate and monitor whether our tax dollars are being allocated equitably to Asian Americans in the district."
"At the end of the day, community efforts to encourage voter registration and participation should be a collective endeavor across the Asian American community, and I believe it will improve our quality of life," said Kiyota, who supported the study.
BY INSEONG CHOI   [support@koreadaily.com]