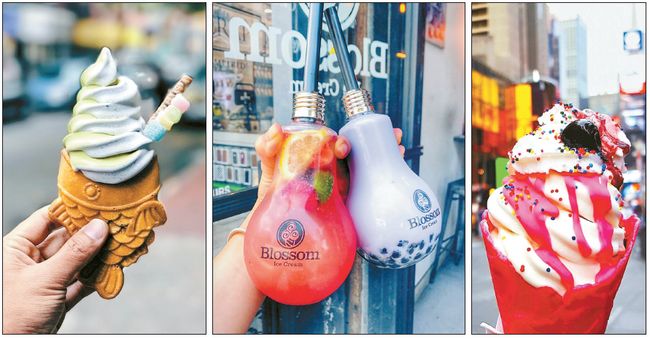 Photogenic Korean desserts are sweeping America.
At a recently opened dessert shop in Los Angeles, a bunch of customers took out their smartphones out as soon as desserts were served. This is not an unfamiliar scene at all. With the landing of Korean dessert culture on the U.S. land, one can encounter such scene frequently. Especially when it comes to desserts, visual appeal is the most important factor.
The New York Times took a special notice of the role of Korean dessert in the world's dessert scene. In its recent article, the media commented how the visually appealing Asian desserts are playing a significant role in the "social-media-dominated world."
Los Angeles is a war field of "Instagrammable" desserts. Newly opened dessert shop Bora, located on Western Ave in Koreatown, is already growing popular for its visually attractive presentation of desserts. Using purple sweet potatoes and matcha as main ingredients, Bora makes frozen treats and cakes in vivid colors and presents them with flowers. Somi Somi, which serves taiyaki ice cream, has long been established as the must-visit dessert stop in the neighborhood. Holy Roly's colorful rolled ice cream is another great example.
The visual appeal of Asian-originated desserts is setting a new trend in New York as well. A great portion of NYC's dessert shops popular on social media is founded and operated by young Asian immigrant entrepreneurs.
How could desserts, which are of Western origin, re-export from Korea to New York? Lee Hyang-eun, professor of Service Design Engineering at Sungshin Women's University mentioned Instagram as the greatest contributing factor to the phenomenon.
"Instagram promotes communication through images, which lowers the barrier of the language difference," said Professor Lee. "In addition, the usage of simple English hashtags enables anyone to present their contents to a great number of people across the globe."
Original article by Kim Ji-yoon and Song Hyun-ho