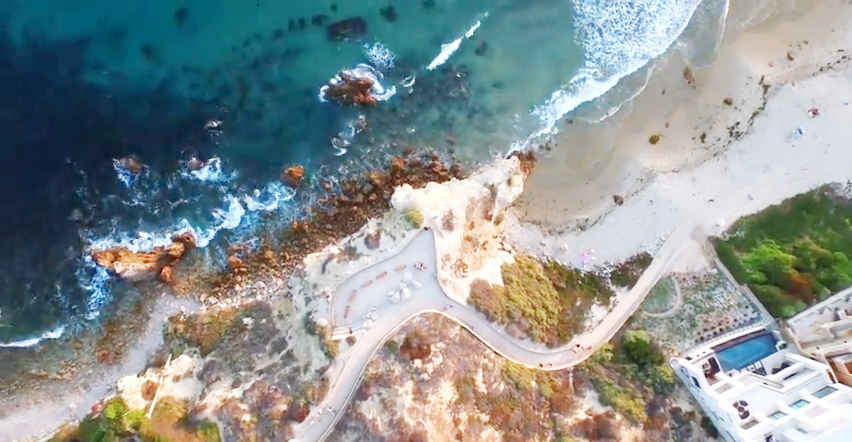 If you live in Southern California, You must have heard of the terms, 'May Gray' and 'June Gloom', which refer to the cloudy and chilly weather in SC during late spring to early summer. However, unlike how the terms sound like, now is actually a better weather to go hiking because it is neither too sunny nor hot. Below is a list of some of the free hiking courses you can enjoy this weekend with your family.
▶ Inspiration Point
Inspiration Point Trail, located at Newport beach's Ocean Blvd and Orchid Ave, is a 2-mile course that beginners can easily complete. Parking is available near at Ocean Blvd.
To get the most out of the wonderful location, it is better to go out in early evening, so you can see the beautiful California's sunset. It is a great course to take children and pets since it is a flat road without any hills. Also, during the hiking, you can take some rest at a nearby sandy beach or at a lawn. Make sure though to prepare enough water, sunscreen, and snack.
▶ La Tour
0.3-mile long beginner course located at Laguna Beach's 2713 Victoria Dr. Although it is relatively a short distance, there are many attractions to see during the course. You can enjoy the La Tour, which is a 60-feet high castle-inspired tower built in 1926. It is a great location for a photo shoot especially with its background of a cliff, open sea, and waves. Furthermore, you can also experience a little-sized ocean's ecosystem including crawfish, sea anemone, and starfish, found in several tide pools at nearby main beach. As the course is pretty rocky, make sure you wear comfortable sneakers, and prepare some extra clothes in your backpack in case you get wet by the waves.
▶ Back Bay Loop Trail
It's a 10.5-mile long intermediate hiking course located at Newport Beach's 2301 University Dr. You can park near University Dr. and it is better to depart for the trail in the early afternoon. There are several observatories during the trail course, and you can also visit places like Back Bay Science Center and Environmental Nature Center. Instead of seeing the ocean, you can meet a variety of trees and beautiful birds. Also, if you want to rent a kayak from Newport Beach Aquatic Center, make sure to bring bathing suits. Don't forget Sunscreen, beverage, and lunch, too.
Original document available at http://www.koreadaily.com/news/read.asp?art_id=4341938
Translated by Audrey Joung