Wednesday August 10, 2022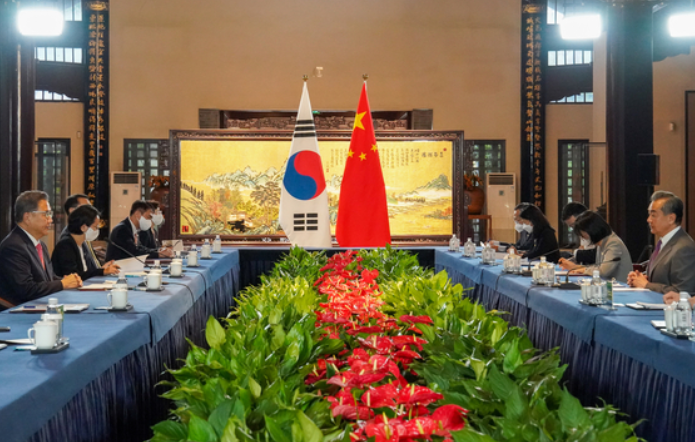 If Korea meets with the United States to discuss semiconductors, it is not meant to isolate any specific country, Foreign Minister Park Jin told China's top envoy Wang Yi on Tuesday.

"Minister Park made it clear that the recent decision by Korea to join a preliminary meeting [on the semiconductor supply chain] was purely and entirely based on our national interests and was not meant to exclude or target any specific country," a Foreign Ministry official told the press following the meeting between Park and Wang in Qingdao, Shandong Province.

The State Department has proposed to the Korean government closer cooperation on semiconductors, a government insider told the Korea JoongAng Daily on Wednesday.

If there is a meeting on semiconductors between Washington and Seoul, and possibly other parties, a time and location were not set as of Monday, the Foreign Ministry said.

News reports out of Seoul in recent days have talked about a vague "Chip 4" group to cooperate on semiconductor supply chains, which would supposedly include Korea, the United States, Japan and Taiwan.

In Qingdao on Tuesday, Wang was described by the ministry official to have "listened with intent," adding that he expected Korea to continue to "make sound judgements" about following its own national interests, and that China has its eyes on what the United States is doing in the region.

No American department or Korean ministry has confirmed the establishment of a "Chip 4" or "Fab 4" alliance.

The Korean Foreign Ministry said Monday there are ongoing discussions with the American government on "cooperation on strengthening supply chain on semiconductor," and that the cooperation is "not an alliance meant to exclude a specific nation."

U.S. restrictions on China's access to semiconductor technology are expected to rise with the recently passed Chips and Science Act.

U.S.-China rivalry was a theme in the two top envoys' conversation in Qingdao on Tuesday, the first to take place in China since the inauguration of the Yoon Suk-yeol administration in May.

In his opening remarks, Wang spoke against "external interference," an expression that the Chinese government use often to criticize U.S. involvement in the region, including the controversial visit by U.S. House Speaker Nancy Pelosi to Taiwan last week.

"We must maintain goodwill and consider each other's important concerns," Wang told Park. "A win-win situation should be maintained in safeguarding a stable and smooth supply chain and industrial network.

"We must uphold equality and respect and not interfere in each other's internal affairs."

The two top envoys also broached another problem in Beijing-Seoul relations, the Terminal High Altitude Area Defense (Thaad), a U.S.-led antimissile system deployed in Korea in 2017. China levied economic sanctions on Korea following its deployment, calling the system an American scheme to spy on China.

"Both clearly and in detail expressed their respective positions on Thaad," said the ministry official. "Both the Korean and Chinese sides clearly agreed that this issue should not become a hindrance to the development of Korea-China relations in the future."

Park said he also conveyed the discontinuation of the so-called "Three No's" policy of the former Moon Jae-in administration.

The so-called "Three No's" refers to a pledge made by the Moon administration in October 2017 not to make additional deployments of the Thaad anti-missile shield, participate in an American missile defense network or transform the U.S.-Korea-Japan alliance into a military alliance.

"I've conveyed clearly that the [Three No's] policy was not an agreement or a promise," Park told the press following his meeting with Wang on Tuesday.

Despite the sensitive issues discussed during the meeting, the conversation was characterized as "frank and productive" and "friendly" by the Korean Foreign Ministry, lasting nearly three hours and extending over a dinner.

On semiconductor cooperation with the United States, Park was said to have put forward the idea that Korea could actually serve as a type of economic or trade bridge for China in the region.

"Park said that Korea cooperating on semiconductors with other countries is not necessarily a bad thing for China," a senior-ranking official in the Foreign Ministry told the press after the meeting. "Considering the close economic and trade structure between Korea and China, [Park] explained that Korea could even play a role as a bridge."

Park was said to have also reassured China that Korea's adherence to a one-China policy remains unchanged.
BY ESTHER CHUNG [chung.juhee@joongang.co.kr]