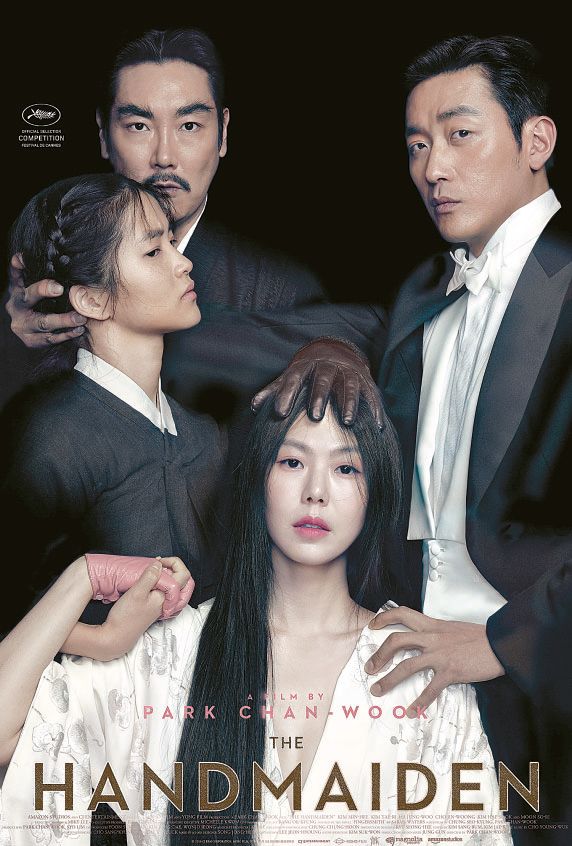 Park Chan-wook's new film, The Handmaiden, opens today in major cities across the US. The film opened last week in Los Angeles and New York and 140 additional theaters in other cities are adding the title on their show times today.
Park Chan-wook is a South Korean director internationally acclaimed for his 2003 film, Old Boy. His recent work, The Handmaiden, is an erotic thriller film starring Kim Min-hee, Ha Jung-woo, Kim Tae-ri, and Cho Jin-woong. In the handsy poster, their complicated relationships are exquisitely hinted.
Here is the official plot summary presented by CJ Entertainment:
1930s Korea, in the period of Japanese occupation, a new girl (Sookee) is hired as a handmaiden to a Japanese heiress (Hideko) who lives a secluded life on a large countryside estate with her domineering Uncle (Kouzuki). But the maid has a secret. She is a pickpocket recruited by a swindler posing as a Japanese Count to help him seduce the Lady to elope with him, rob her of her fortune, and lock her up in a madhouse. The plan seems to proceed according to plan until Sookee and Hideko discover some unexpected emotions.
Prior to its opening in theaters across North America today, The Handmaiden was screened at Toronto International Film Festival in September.
To find more information including the show times, visit the official website.
Original article by The Korea Daily LA
Translated and edited by Heewon Kim