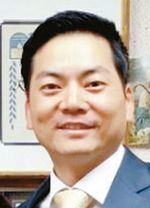 With the election coming up on June 6, it is becoming more evident that the primary base of supporters for Robert Ahn, running for California's 34th Congressional District, are "outsiders." Racial minorities, LGBTQ, disabled and veterans are coming out in numbers to show their support for Ahn. His support group is immensely diverse with people of all backgrounds.
Veterans' rights activist group Political Action Committee (PAC) announced last Friday that it will endorse Ahn in the upcoming election. "There are over 1.7 million veterans in California alone," said PAC chairman Brian Hampton. "About 100,000 of them are currently homeless, while 570,000 are unemployed."
In response to Hampton, Ahn said: "I will speak in Washington D.C. so that those who sacrificed for our country could be treated properly."
It is not just the veterans who are supporting Ahn.
Two weeks ago, LGBTQ leaders also showed their support. Pastor J. Edgar Boyd, the leader of the First African Methodist Episcopal Church of L.A., is also endorsing Ahn. Retired basketball player Jason Collins, one of the first gay athletes to come out, said: "Ahn is someone who could be the friend of our community as the presence of minorities is threatened in our country at the moment." Ahn and Collins were teammates during their years at Harvard Westlake High School.
Additionally, Korean-American politicians Mark Keam, David Ryu and other Asian-American public figures, including former Congressman Mike Honda, have all shown their support for Ahn. They have agreed that Ahn is the ideal candidate to secure the rights of the country's minorities.
"I am someone who can deliver the minorities' voice to the American government as I am an outside myself," Ahn said. "I understand where they're coming from."
▶Enquiry on voting by mail: Robert Ahn camp (323-285-1246), Korean American Federation of L.A. (323-732-0192)
By Ina Chung