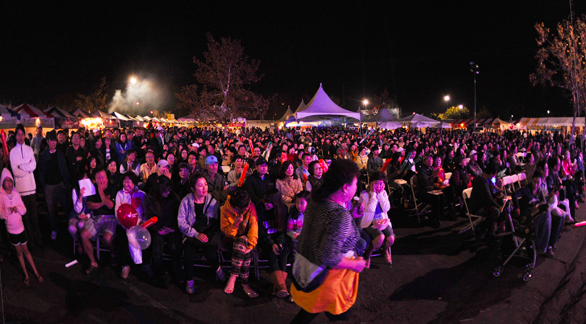 The upcoming 33rd Arirang Festival of Orange County is to be held at The Source Mall in Buena Park this October.
On June 27, the City Council of Buena Park consented to have the biggest Korean cultural festival of the city at the newly opened mall.
Previously on June 19, the festival foundation and The Source's operator M&D Property agreed on an MOU to open the event at the mall.
"Visitors, especially the elderly visitors, found it uncomfortable to walk all the way from The Source's parking lot to the event site when it was held in the parking lot of Buena Park City Hall last year," said the festival foundation's chairman Jung Cheol-seung. "This year's event at the mall will increase the visitors' satisfaction greatly, since they can walk straight to the festival site from the parking lot."
The stage will be located at the first-floor plaza and the market, food booths, and the beer garden will be held at the parking lot.
The festival foundation, in cooperation with The Source, will have "K-Pop Competition" as well.
"We will make it a large-scale event where people from different cultures can enjoy," said Jung. "We also plan to invite a special judge from Korea."
Information Seminar, which was launched last year for the first time, will be held this year as well, in the seminar room near the plaza.
The 33rd Arirang Festival of Orange County will be held as a four-day festival from October 19, 10 AM to 10 PM everyday.
Original article by Lim Sang-hwan
Translated by Heewon Kim