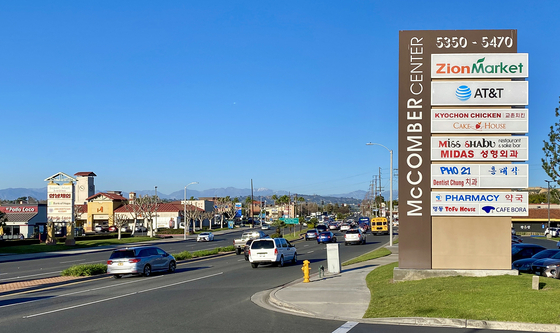 The Buena Park City Council is scheduled to vote on a proposal to designate the section of Beach Boulevard between Orangethorpe Avenue and Rosecrans Avenue as Koreatown on September 26. "We're going to bring the Koreatown designation to the council meeting on the 26th," District 1 Councilmember Joyce Ahn relayed to the Korea Daily over a phone call.
Ahn detailed that the proposed designation would spotlight the impactful contributions made by Koreans and Korean American enterprises to Buena Park's economic landscape. It seeks to label the stretch of Beach Boulevard between Orangethorpe Avenue and Rosecrans Avenue, an area bustling with Korean American-run restaurants, markets, and various retail establishments.
"If the designation is approved, the city plans to erect 'Buena Park Koreatown' signage in the vicinity of La Mirada Boulevard and Malvern Avenue, the hub of businesses like Hannam Chain, H-Mart, and Zion Market," Ahn shared.
Should this designation secure City Council's endorsement, Buena Park would be the second city, out of the 34 in Orange County, to have its own Koreatown — the first being Garden Grove.
Back in 2002, the Garden Grove City Council identified the segment of Garden Grove Boulevard between Brookhurst Way and N Fern Street as the Garden Grove Korean Business District. However, in 2019, they acquiesced to a resolution to rebrand it as "Koreatown" following the solicitation by a collective of past presidents of the Korean American Chamber of Commerce of Orange County.
In Buena Park's context, it was the Korean American Central Chamber Of Commerce Southern CA that initially rallied for a "Koreatown Business District" label in 2017, but their efforts didn't resonate with the City Council.
In a twist of events, California Senator Josh Newman, a month ahead of his recall in May 2018, convened a press meet, proclaiming his intent to pioneer the establishment of a marker symbolizing the Korean American populace in Northern OC, specifically near Beach Boulevard and Malvern Street. Regrettably, the endeavor lost traction when Newman faced a recall and subsequently lost his seat.
By 2022, the dialogue was rekindled, this time by the Korean American Federation of North Orange County. They championed the idea of a "Gangnam Town marker" in Buena Park's Korean American commercial district, but this too didn't materialize.
Dongwoo Park, a chief aide to Assemblywoman Sharon Quirk-Silva and a collaborator with Ahn on the Koreatown proposal, commented, "It's arduous for a Korean American entity to garner funds for a marker. If they're unable to secure the finances and execute the construction swiftly, they could find themselves at odds with the shifting political dynamics following the council elections. Presently, we're of the opinion that it would be most propitious for the Buena Park City Council to approve the Koreatown tag and put up the signs."
The Buena Park City Council will convene at 5 p.m. on September 26 at City Hall.
BY SANGHWAN LIM    [lim.sanghwan@koreadaily.com]