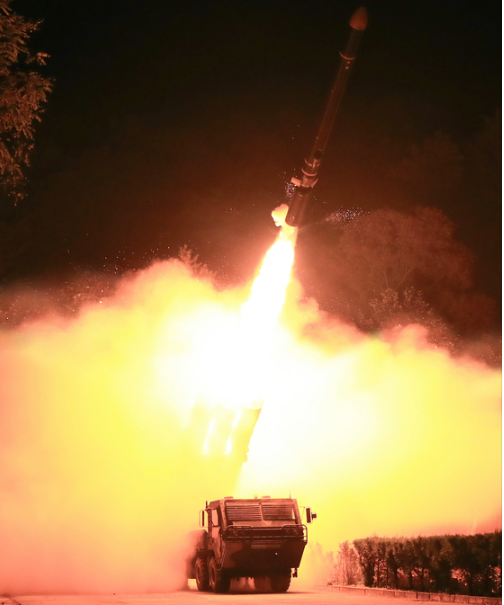 North Korean leader Kim Jong-un personally watched the test-firing of long-range strategic cruise missiles by tactical nuclear operations units, Pyongyang's state media reported Thursday.
 
According to an English-language report by the official Korean Central News Agency (KCNA), North Korea on Wednesday fired "two long-range strategic cruise missiles that flew for 10,234 seconds along an oval and pattern-8 flight orbits in the sky" above the Yellow Sea and hit their target 2,000 kilometers away.
 
Seoul's Joint Chiefs of Staff (JCS), which reported the launches to media only after the KCNA report was released, disclosed that the cruise missiles were fired from Kaechon, South Pyongan Province.
The JCS added they detected the cruise missile launches at the time they occurred, but decided not to publicize them because the North is only forbidden from carrying out tests of ballistic missile technology.

The launches observed by Kim were conducted in order to further enhance the "combat efficiency and might" of the missiles, which KCNA said were deployed with units of the North's Korean People's Army responsible for operating tactical nuclear weapons.

The tests reconfirmed the reliability of the overall tactical operations system, the agency added.

Kim expressed satisfaction that the test demonstrated the capabilities of the North's tactical nuclear operations units, saying they "proved again their full preparedness to use any weapons system [to] bring our enemies immediately to heel without fail and with absolute mobility, precision and force in wartime," according to the KCNA.

Calling the test a "clear warning" to South Korea and the United States as well as a demonstration of the North's deterrence capabilities, Kim called for the "endless accelerating" of the country's nuclear weapons program and its "nuclear strategic armed forces."

The test took place two days after the KCNA released a report on the regime's flurry of missile tests between Sept. 25 and Oct. 9, during which it fired a variety of short-range ballistic missiles (SRBM) — including one launched from underwater in a reservoir — a multiple-launch rocket system, a heavy payload SRBM and an intermediate-range ballistic missile (IRBM) that overflew Japan.

Recent launches by the North seem to reflect Kim's vow to equip frontline units with tactical nuclear weapons and credible means of carrying out preemptive nuclear attacks in case of a perceived existential threat.

In particular, the North appears to be shifting the focus of its nuclear weapons program towards tactical nuclear weapons that could degrade an enemy's conventional fighting capabilities, and away from strategic nuclear weapons aimed at destroying wide areas, such as entire cities.

The North's progress in cruise missile technology raises concerns it could potentially overwhelm South Korean missile defenses with a mixed barrage of ballistic missiles that can perform "pull-up" maneuvers and low-flying cruise missiles, both of which are difficult to intercept.

If the North succeeds in miniaturizing nuclear weapons so they fit atop missiles, those concerns would only grow.

"It would become very difficult to distinguish a missile mounted with a tactical nuclear weapon from a missile carrying a conventional bomb," said Prof. Lee Byong-chul of Kyungnam University, adding it would likewise become "far more complicated and difficult to formulate a defensive response" to such a scenario.
BY MICHAEL LEE [lee.junhyuk@joongang.co.kr]