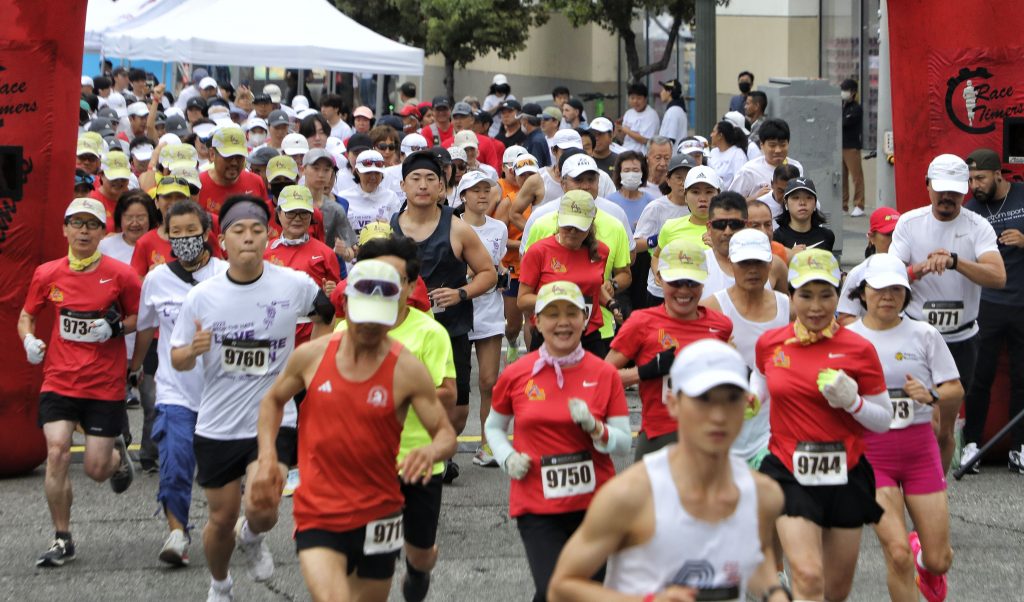 ▶Picture Download
.
It was a festival of unity that transcended race and disability.
The 10th Annual LOVE SHARE 5k/10k run/walk, presented by the Korea Daily and coordinated by Happy Village, was held successfully on September 16.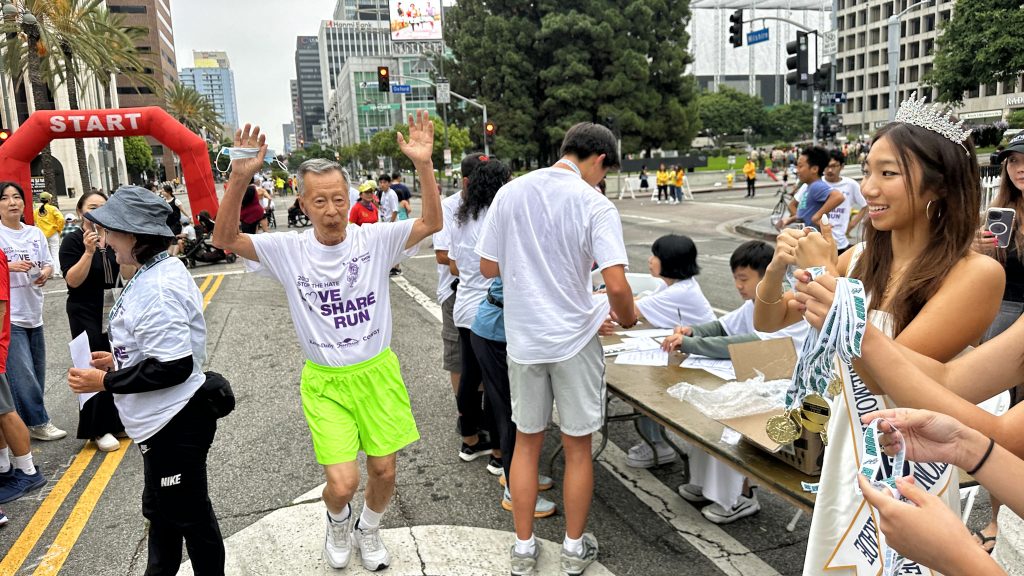 After a four-year hiatus due to the COVID-19 pandemic, the run/walk resumed, drawing over 1,500 runners spanning various ages. Participants ranged from individuals with disabilities in wheelchairs to toddlers as young as 2, and seniors in their 80s. Participants from all over Southern California, including Koreans, Asians, whites, blacks, and Latinos, wore T-shirts with the words "Stop the Hate, Sharing & Love Community" on them as they walked, ran, and enjoyed a community-wide feast.
District 10 Councilmember Heather Hutt, whose domain includes Koreatown, and Olympic Police Captain Aaron Ponce celebrated the event. Numerous volunteer organizations, such as the Photographers Society of Southern California, PAVA World, the Lions Club, Los Angeles Wilshire Lions Club, and Boy Scout Troop 278, supported the event, from handling parking to post-event cleanup. Additionally, Hills Acupuncture Clinic had a medical booth to aid participants experiencing pain.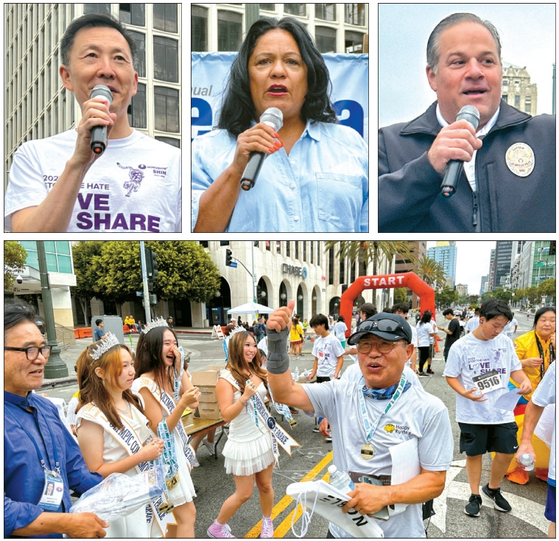 In his pre-race remarks, Yoonho Nam, CEO of the Korea Daily, welcomed everyone, saying, "After the pandemic's hiatus, I hope you enjoy the LOVE SHARE run/walk."
"I'm honored to participate in such a significant event," Councilwoman Hutt expressed. "My wish is that it brings participants and our community closer. More crucially, I envision this event as a catalyst to combat hate crimes in Los Angeles."
"Witnessing runners in our neighborhood after a challenging four-year period is uplifting. We're dedicated to ensuring not just the safety of today's participants but the broader community in the years ahead," said Captain Ponce.
Nunez Martinez, a Guatemalan resident of LA Koreatown, reflected, "Running on Wilshire alongside Korean Americans and other neighbors was rejuvenating. I'm optimistic about more events like this, fostering stronger community bonds."
With Wilshire Boulevard in LA Koreatown closed from Western Avenue to Parkview Street, even out-of-town and international tourists joined the festivity. "We were staying at the Line Hotel, and this morning, we discovered streets bustling with people," said Sofia Dumaz, visiting LA with her German friend, Janina Smits, from Cleveland, Missouri. "Sharing this LA experience with a friend was unforgettable."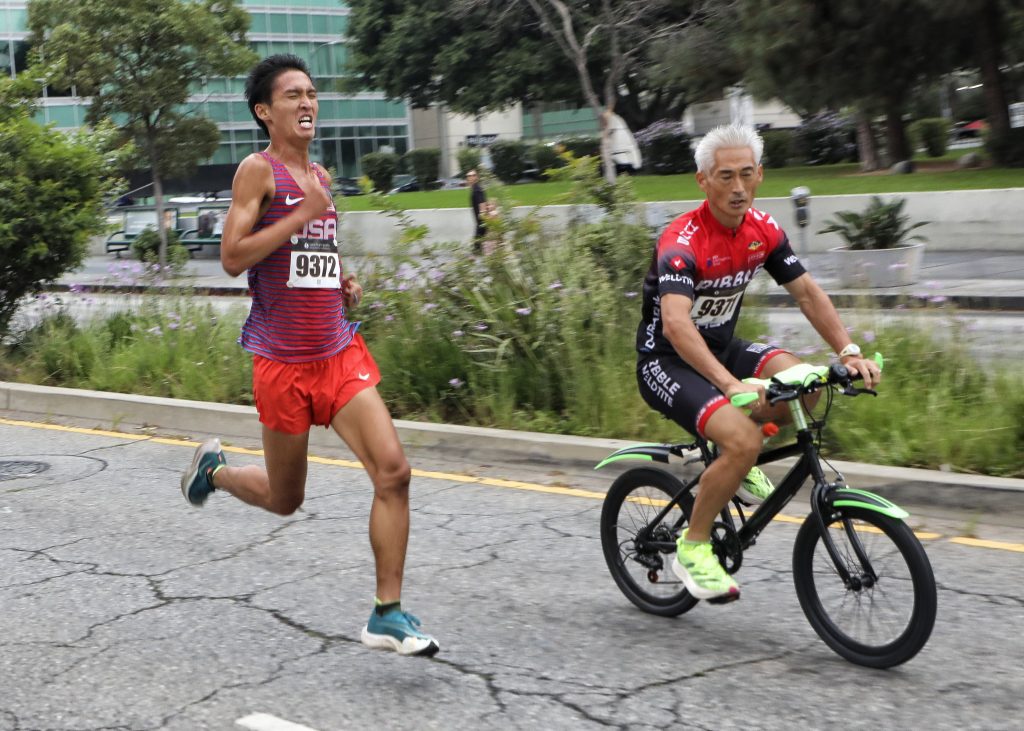 In the race, Richard Kim and Fatima Navarro emerged as the 5K victors, while Seoungeun Yoo and Wonhee Kim dominated the 10K category. Among wheelchair racers, Edgar Morillo secured the top spot.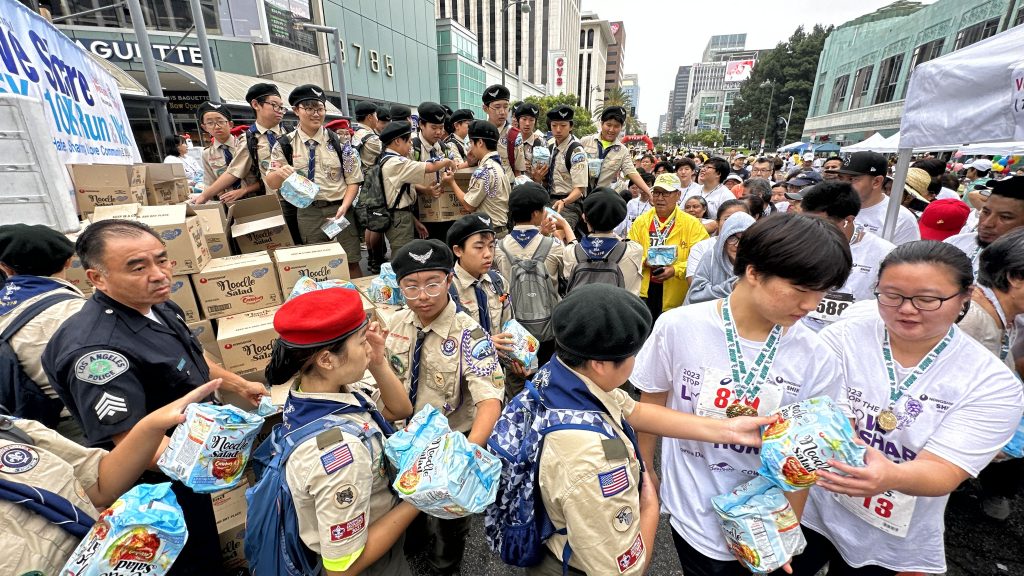 Post-awards, a raffle offered participants a chance at numerous prizes, including round-trip tickets from Asiana Airlines and resort golf stays. Nongshim gave out 4-packs of instant noodles, Coway provided portable wet wipes and plastic bags, and Rise Kohyang Schools gifted mini backpacks to participants.
BY HYOUNGJAE KIM, HOONSIK WOO [kim.ian@koreadaily.com, woo.hoonsik@koreadaily.com]