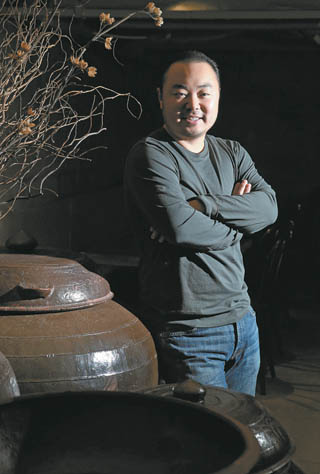 Star Korean-American chef Hooni Kim certainly knows a thing or two about cooking Korean food.
As owner-chef of the New York-based Korean restaurant Danji and Korea-style bar Hanjan, the 42-year-old chef says "using fresh ingredients" was the key in winning over the picky appetites of foreign gourmets.
Danji was the first Korean restaurant in New York to earn a prestigious Michelin star.
After making himself known to the Korean public as one of the panel judges on the third season of popular cooking survival show "Master Chef Korea," Kim visited Korea recently to prepare for the next season, scheduled to air in March on O'live TV.
"Korean dishes have strong flavored sauce so it is easy to make any ingredients, even the bad ones, taste nice. But those dishes would never be able to receive good grades from gastronomers," Kim said, explaining how he has managed to climb to the top of the competitive Manhattan culinary scene.
"At Danji, we focus on maximizing the texture of the food by using good meat and try to find a harmonizing point with sauce and ingredient," he continued. "That is what people who consume fine dining want."
Kim, who interviewed with the JoongAng Ilbo late last month, said he left Korea when he was 3 years old. But in order to visit his grandmother who was living in South Jeolla, he has been visiting Korea at least once a year.
Yet he said the Korean food he had in the states growing up was completely different from the food his grandmother cooked, and his explanation for that difference lay in using fresh, high-quality ingredients.
With a strong determination to "show that Korean food can be as good as theirs," Kim has been continuously working to find the midway point in maintaining the core identity of Korean food while satisfying Western tastes.
At Danji and Hanjan, Kim revealed that he uses jang, or Korean fermented sauces, made by masters in Korea, while using fresh vegetables and meat acquired from local markets.
When asked about how he felt while participating as a judge on the survival show, he said that he felt somewhat bad for the participants.
"They just say that they want to become a star chef without realizing the joy of cooking," he said. "If they focus on cooking and inventing new recipes, the star chef label will eventually follow. At least that is what I think."
Kim also has good feelings about the future of Korea's culinary scene, as not only the interest in Korean food is growing in America, but there are also chefs who study cooking in America and go to Korea to open their restaurants.
"Koreans are good with using their hands, and the culture also goes well with the strict hierarchy in the kitchen," he said. "If we develop skills step by step, I absolutely believe that we can reflect our identity in our dishes."
BY KANG HYE-RAN [jin.eunsoo@joongang.co.kr]