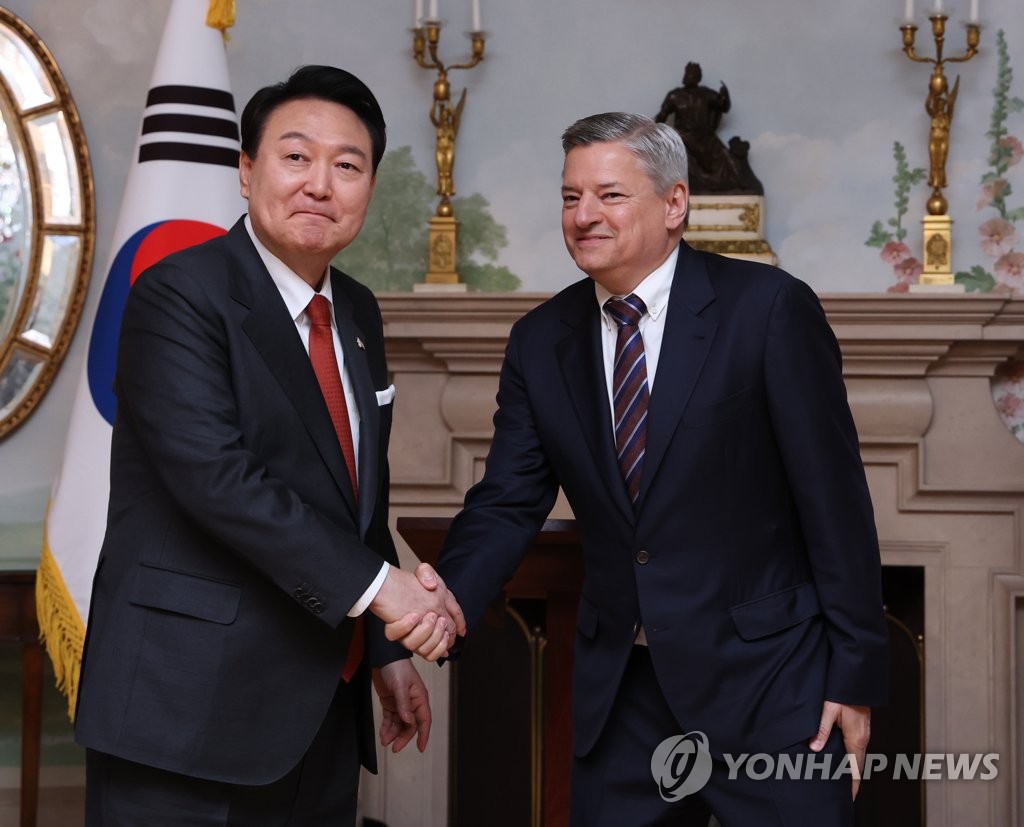 Ted Sarandos, co-CEO of the streaming giant Netflix, is coming to Korea on June 20 to meet with Prime Minister Han Duck-soo and other top officials and business figures, according to local reports Wednesday.
The visit comes about two months after Netflix announced it would make sizable investments in Korean content.
"Sarandos is coming to Korea this month," Netflix Korea confirmed Wednesday. "But we're still working out the details of his itinerary."
According to media reports, Sarandos told President Yoon Suk Yeol he will be making a two-day or three-day visit to Seoul from June 20.
The co-CEO had also recently sent a letter to Yoon and first lady Kim Keon-hee, saying he was moved by Yoon's speech to a joint session of Congress during his state visit to the United States in April.
He also said he will do his best to continue to foster the cultural alliance between Korea and the U.S.
Sarandos also thanked the first lady for her gift and handwritten letter to Netflix's Chief Content Officer Bela Bajaria.
The first lady was present at Yoon's meeting with Sarandos in Washington and met separately with Bajaria.
Sarandos said Netflix will continue to discover new Korean talent, including actors, directors and writers, so that Korean content remains globally popular, as Kim requested to Bajaria.
However, it is still unknown whether Sarandos will meet Yoon during this visit.
Netflix announced plans to invest $2.5 billion in Korean content over the next four years in a meeting between Sarandos and Yoon in Washington in April, while Yoon was making his weeklong state visit to the United States.
"This investment plan is twice the amount Netflix has invested in the Korean market since we started there in 2016," Sarandos told Yoon.
Last June, Netflix founder Reed Hastings made a two-day visit to Netflix Korea's office in Seoul and other partners. Hastings also met with KT's then-CEO Ku Hyeon-mo to discuss potential cooperation on content.
BY JAE-LIM LEE [lee.jaelim@joongang.co.kr]