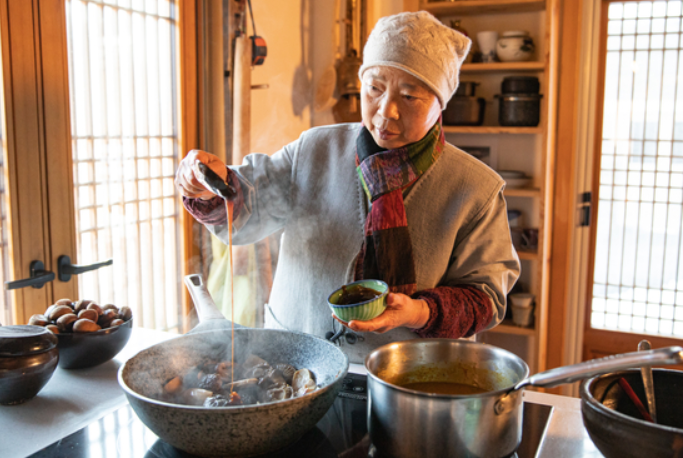 What does it mean to eat well?
 
The JoongAng Ilbo, an affiliate of the Korea JoongAng Daily, visited Buddhist monk Jeong Kwan, 66, who resides at Baekyang Temple in South Jeolla, expecting to hear some words of wisdom about her world-famous temple cuisine but instead, left with some food for thought. 
 
On December 29 last year, Baekyang Temple was covered in snow. During the four days ahead of Christmas, it had snowed about 50 centimeters (19 inches). The snowy road to meet Jeong Kwan was not car-friendly, so a 20-minute walk was required. Even though it was the depths of winter, the sun shone brightly. 
"Here's some tea while you wait."

It was 10 a.m. Jeong Kwan was having a late breakfast with her students at the temple food education center. The monk, who often eats just one meal a day, had her hands full as soon as she finished breakfast. She began drying mushrooms and organizing the ingredients that had been delivered to the temple.

"It took a week for the package to arrive because of the snow," she said. "We've been isolated for a few days, too. That's how this neighborhood is."

Jeong Kwan became a monk in 1974. While practicing asceticism in Daegu and Yeongam and Jangseong in South Jeolla, she learned about food and cooked using ingredients from various regions. She had been good at cooking from a young age and all the other monks knew that too.  

Jeong Kwan believes that cooking is not a talent, but a tie to her past life.  

"I realized that food was the connection between the body and the mind, and I wanted to share the practice through food with the people around me," Jeong Kwan said.

Jeong Kwan founded a research association on Korean traditional temple food in 2006 and delighted the world with her delicacies. She was introduced as a "philosopher chef" by The New York Times in 2015 and became known to the world after an appearance on the Netflix series "Chef's Table" in 2017.  

Since then, Chunjinam Hermitage, a monastery located in Baekyang Temple, has welcomed visitors from all over the world. Last March, Jeong Kwan was awarded the prestigious 2022 Icon Award of Asia's 50 Best Restaurants. Three months later, the Jogye Order designated Jeong Kwan as a master of temple food.

"Soy sauce and soybean paste, which are both important in Korean food, are fermented foods," Jeong Kwan explained. "Kimchi is one of many preserved foods. We also have pickled vegetables. The past, present and future coexist in food and engage. That's where the mind comes in — from the sincerity of the person who made the food to the ingredients, nature and gratitude toward the farmers. That's what makes it so touching."

If you participate in the temple stay at Chunjinam Hermitage, you don't just watch the cooking. Visitors are able to listen to the Buddhist philosophy incorporated in the food and learn the right attitude toward it. It does not simply end at enjoying the taste.

A quote written on the temple's walls states: "Where did this food come from? My virtue embarrasses me to receive this. I accept this tribute to give up all the greed of my heart and to realize my apprenticeship as a medicine that supports my body."

Jeong Kwan stresses the use of seasonal ingredients. She grows her own vegetables and frequents the local market close to the temple, because she wants to meet the people who grow the produce, she said.  

On the day of the visit, Jeong Kwan quickly finished preparing seven dishes that included pumpkin rice porridge, seasoned seaweed, citron jam salad and her signature, boiled mushrooms in grain syrup.

"Now is the time when seaweed tastes the best. It's a great blessing to live in a country where the sea is on three sides," she said.

There are no recipes for Jeong Kwan's food. This is because she follows her intuition and creates food on the spot. Jeong Kwan created a new type of samhap, or a well-known trio of fermented fish, steamed pork and kimchi, but instead used strawberries, green grapes and lotus root, on the day of the visit. 

"Even the same vegetables have different tastes depending on the season, so there can't be only one recipe," she said. "If I rely on recipes, I can't think of the next step. It's like the practice of letting go of all obsession and discovering myself with a new energy."

The flavors of the temple food are stronger and bolder, but at the same time not excessive. The salad dressing alone stood out thanks to the different colors of the omija, or magnolia berries, and citron jams. The pungent taste of chili peppers was surprisingly complimentary. The chewy texture and layered scent of the boiled mushroom in grain syrup lingered in the mouth for a long time.

"CEOs of many food companies, including Pulmuone and Ottogi, have visited Chunjinam Hermitage. I've emphasized every time that it's inevitable to seek profits, but please make good food with good ingredients so that those looking for it can choose among them. I think it's changed a lot these days.

"They say we're living in the fourth industrial revolution led by artificial intelligence," she continued. But is it not humans that made the machines and science? If humans are to utilize science, their priority is to be healthy. One must eat good food and maintain their health in order to overcome difficult situations. Everything has a life span, whether it be a machine or technology. Everything has an end. But one's energy will persevere — like a seed."

Jeong Kwan holds temple stays every weekend. Last year, she went abroad 13 times. This month, 30 students from New York University will visit Chunjinam Hermitage. But there are not enough staff. Some culinary graduates and chefs who learned from Jeong Kwan are the only help she has. The monk takes care of not only cooking and lectures but also the scheduling. She asked the Ministry of Culture, Sports and Tourism, which supports her temple stay program, to hire more people, but the Ministry of Strategy and Finance refused, citing a lack of budget.  

Jeong Kwan marches on, participating in all kinds of events including those hosted by the government, both locally and abroad.
BY CHOI SEUNG-PYO [kjdculture@joongang.co.kr]