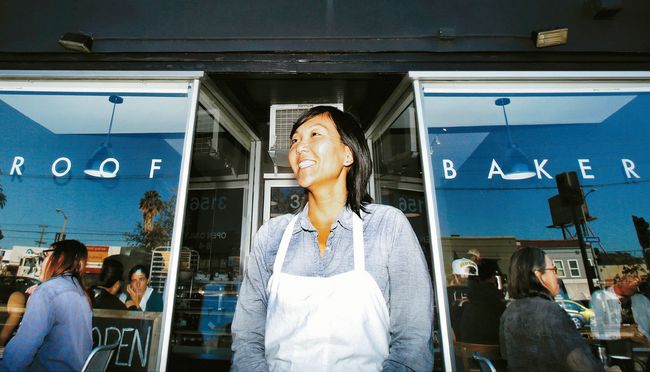 With praises from LA Times and NY Times, Proof Bakery, owned and managed by second generation Korean American, Na-Young Ma, became one of the hottest places in Los Angeles.
Born and raised in Los Angeles, Na-Young majored in Art history at Cornell. Unable to find her way after graduation, Na-Young had to struggle for a long while.
"I didn't have time to think about what I want to do," said Na-Young. "Lacking in social experience, I felt lost after graduation."
Until she determined her way, Na-Young had worked as a waitress at a restaurant, as an English teacher in Japan, and as an editor at broadcasting company. After her experience at a bakery, she started to find baking artistic and creative, much appealing to her regardless of hard works.
For the five years since 2005, Na-Young prepared to open her own bakery. She'd gotten AOS in Baking and Pastry Arts degree from CIA, worked at a famous hotel in Napa, and come back to Los Angeles to work in a famous restaurant. In 2010, she has finally opened Proof.
Opened without advertisement or even a sign, she could barely sell 10 pastries a day at the beginning. However, Proof became a landmark at Atwater Village within a year with average of 700 customers a day.
Of course her success didn't come with no cost. She not only does she have to wake up at 4:00 am everyday to open the bakery, but she has to play multiple roles as a patissier, an owner, and a manager.
"Success can only be achieve through failures," said Na-Young. "You can become an adult by going through experiences and failing from them. Of course, it took me thirty years to realize that."
Original document available from http://www.koreadaily.com/news/read.asp?art_id=3946678
Translated by Heewon Kim