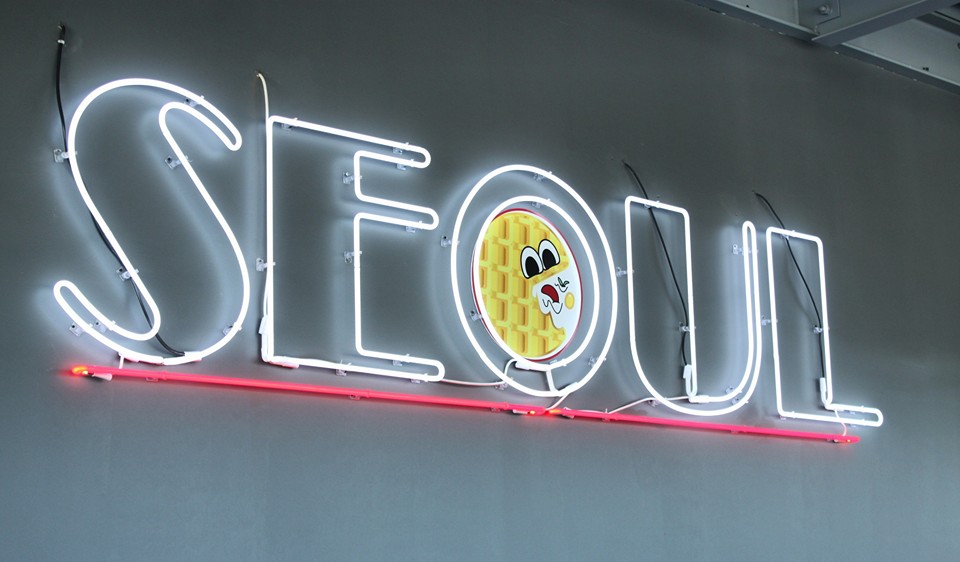 Another reason to visit Koreatown is added. Seoul Waffle Pizza serves everyone's favorite breakfast item topped with the variety of pizza toppings.
If you are following the recent Instagram trend, you would probably have noticed these Instagram-friendly Waffle Pizzas at least once. Home of the world's first Korean Pizza Waffles, Seoul Waffle Pizza is at the center of this new trend. If you're a breakfast person like James Kim, the owner of Seoul Waffle Pizza, you will fall in love with this sweet and savory mash-up at the first bite.
Seoul Waffle Pizza is located on the second floor of Oxford Plaza, a small shopping center on the corner of S. Oxford Avenue and W. 8th Street. Entering the small storefront, you will find the cool neon logo and the menu that already makes you hard to decide among the variety.
Their menu consists of both Korean and American inspired toppings – from the classic pizza toppings like pepperoni or Italian sausage to Korean-inspired toppings like bulgogi or kimchi, delectable toppings are topped on flaky and crispy waffle squares. If you can't make your mind up on one, order Four seasons – a four-way combo of pesto with tomato, barbequed steak, pepperoni, and chicken breast. You can also add a cup of maple syrup to add the signature sweetness of waffles.
Each bite of a Waffle Pizza will prove the secret behind its popularity on Instagram – it's just delicious. Opening until 1 am, Seoul Waffle Pizza also offers a great option to satisfy your late night cravings.
Location: 3525 W 8th St #208, Los Angeles CA
By Heewon Kim