A college student looking to obtain an internship or job must quickly attract the attention of employers through their resume. Here are four tips to help create a resume that stands out:
Emphasize accomplishments
One of the most important ways for a student to stand out is to show accomplishments. This can include a high GPA, academic honors or awards, and writing bullet points that highlight the student's accomplishments. Whenever possible, a student should quantify the accomplishments to give the reader a better understanding of the significance of the accomplishment. For example, instead of writing "Led a team to help raise money for the Boys and Girls club," the student should write, "Led a team of 15 members to plan and execute a successful charity fundraiser that raised $7,500 for the local Boys and Girls club."
Include relevant keywords
Many companies use Applicant Tracking Systems (ATS) to scan resumes and rank the resumes based on how well they match the job posting. To increase the chances of the resume being ranked highly, a student should carefully review the job posting and include relevant keywords from the job posting in the resume. This can include specific skills or technologies, as well as industry-specific terminology. For example, if a student is applying for a job as a software developer and the job posting lists the following skills as requirements: "Java, Agile development, SQL," the student wants to make sure to include these keywords in their resume.
Use strong action verbs when writing bullet points
Students should avoid using passive language or vague phrases like "responsible for" or "duties included" when writing their bullet points. Also, by including a variety of skills in the bullet points, a student can demonstrate to potential employers that they possess a range of abilities and experiences, such as leadership, teamwork, communication, and problem-solving.
Make sure the formatting is clean and consistent
In addition to the content of the resume, it's important to pay attention to the presentation. A student should use a simple, easy-to-read font, such as Arial or Calibri, and make sure the layout is clean and consistent. Page margins should not go below 0.5 inches and above 1 inch, and font size should be at 10pt or above. The student should also use clear headings and bullet points to make the content easy to scan.
-Below is an example resume for a UCLA sophomore majoring in Statistics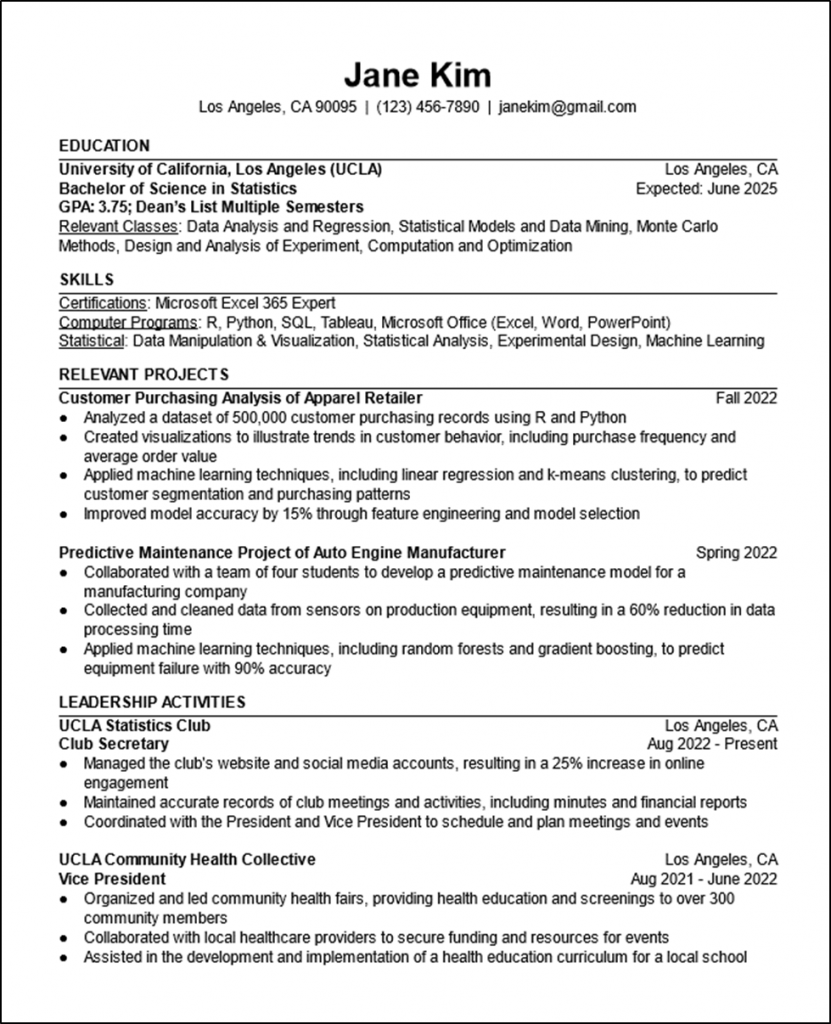 James Pak
LA Career Coaching
(949) 630-8729
www.lacareercoaching.com