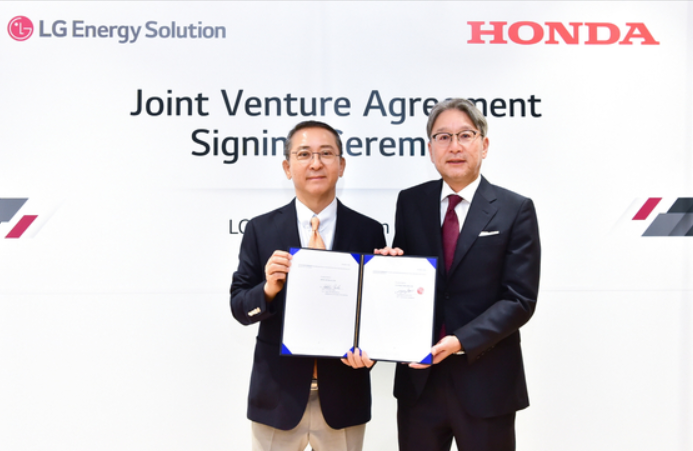 LG Energy Solution and Honda Motor established L-H Battery Company, a battery-making joint venture, on Friday.
 
The establishment came as the two companies announced in August a $4.4 billion investment in building an electric vehicle (EV) battery plant in Ohio. It is the first factory project developed by a Korean battery maker and a Japanese automaker.
 
LG Energy is investing $2.24 billion for a 51 percent stake in the joint venture, with Honda owning the remainder.
Robert Lee, who currently serves as the executive vice president at LG Energy, will serve as the CEO. Rick Riggle, who previously worked as the leader of Anna Engine Plant of Honda Development and Manufacturing of America, has been named as the chief operating officer.

The plant will be located in Jeffersonville, northwestern Ohio, and will have 40 gigawatt hours of annual capacity, enough to make 500,000 EVs.

The construction will start next month, with the goal of starting mass production at the end of 2025. Roughly 2,200 new jobs will be created.

The produced batteries will be supplied exclusively to Honda's Ohio and Alabama manufacturing facilities.

"LG Energy Solution has all the right assets to make this joint venture a success, including the financial stability, quality, competitiveness, and production capacity with global operational expertise," said Lee. "With the two companies' expertise combined, we will provide top quality batteries to ensure the successful launch of Honda EVs in North America, and grow with the community here in Ohio by creating high value jobs."
BY SARAH CHEA [chea.sarah@joongang.co.kr]