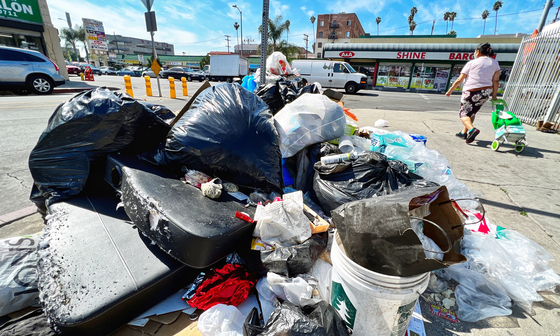 The city of Los Angeles has been plagued by an epidemic of illegal dumping, and some argue that lenient penalties are exacerbating the problem.
Los Angeles Koreatown is one of the areas most affected by illegal dumping. According to MyLA311, a non-emergency city service line, there have been a total of 34,576 complaints about illegal dumping in the city this year.
When broken down by neighborhood council, the Wilshire Center-Koreatown (WCKNC) area received 889 reports, making it the third-highest total. Empowerment Congress Southeast (1,723) and Empowerment Congress Central (981), which include South L.A., received the highest number of reports.
Within the WCKNC area, the highest number of duplicate reports were received for the dumps at the intersection of the 101 Freeway and Heliotrope Dr. in northern Koreatown (15), followed by apartments near Oakwood Ave./Heliotrope Dr. (14), and New Hampshire Ave./Wilshire Blvd (12).
The city's illegal dumping problem is not new. In 2008, under then-Mayor Antonio Villaraigosa, the Los Angeles Police Department (LAPD) launched a crackdown on illegal dumping but failed to stop it.
More than a decade later, in 2019, former L.A. Mayor Eric Garcetti vowed to aggressively prosecute businesses that illegally dump trash, but the situation hasn't improved.
"If anything, the illegal dumping problem has worsened," said Estela Lopez, Downtown Industrial Business Improvement District (BID) representative, "and it costs taxpayers millions of dollars each year because city sanitation crews have to clean it up."
During a two-week observation of the Flower District around Valentine's Day, the Bureau of Sanitation found 34 businesses with inadequate trash collection services, and they issued citations to 68 businesses caught illegally dumping trash.
"We need tougher penalties. We need to show the illegal dumpers that we mean business," Lopez added.
On May 26, the NBC I-Team reported that they had "reviewed hundreds of illegal dumping citations from the first three months of 2023 and found that most were just warnings with no penalties. Even when fines were imposed, they could be as low as $250."
"It could definitely put a strain on them [the dumpers] because if the fines are significantly higher, it would definitely impact them financially," said Abraham Abrahamian, from L.A. Sanitation.
BY SUAH JANG [support@koreadaily.com]