Korean author who survived life-threatening burns earned her Ph.D. from University of California, Los Angeles last Friday.
Lee Ji-sun, who was 22 years old at the time of the accident, was hit by a drunken SUV driver, which took away 55 percent of her total body surface area. She had to go through more than 40 surgeries and skin transplants. In 2003, she wrote a book about her accident and recovery from it, which touched the hearts of many Koreans.
When she came back to life from the deadly accident and burns, Ji-sun made her mind to live to help people with disabilities. To help those in need, Ji-sun found it necessary to study welfare, which led her back to the university five years after the accident.
It wasn't easy for her to find the right path at first. In 2005, Ji-sun started studying at Boston University to earn the master's degree in Rehabilitation Counseling, but she found her studying somewhat different from what she had imagined. Right before the graduation, she made her mind to "do it right even if it takes time." Such decision made her to invest additional years on studying Social Welfare at Columbia University. And again in 2010, Ji-sun started her Ph.D. in Social Welfare at UCLA.
Ji-sun replaces her sufferings with the word "gift." "I don't want to go back to the times before the accident," said Ji-sun. "Only after spending painful days did I realize that there are so many people in need. I want to reach my hands to them. That's the reason of my life."
We talked to Lee Ji-sun, who is getting ready for another miracle as "Doctor Lee."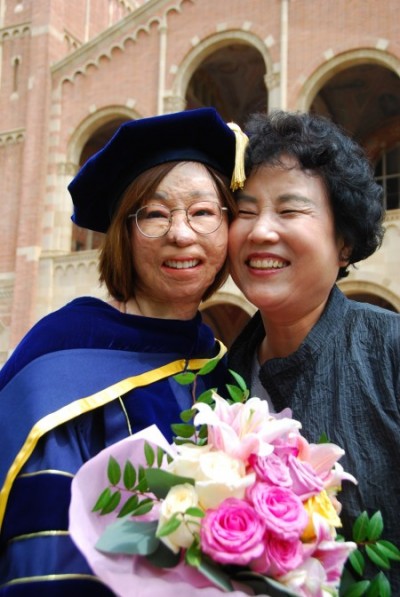 – How do you feel about earning the doctorate degree?
"I'm really glad, but I also feel duty-bound because it's time for me to do my work in the society. I feel nervous about it."
– What was your dissertation about?
"I studied the changing perceptions about people with disabilities. It mainly deals with the ways to change the negative perceptions."
– Did you find the way to help people with disabilities while studying at UCLA?
"There were few achievements. Through a study, I found a way to develop programs to increase intimacy with disabled people. I concluded that it is essential to put efforts for increased opportunities to spend time with them. I wish related organizations to adopt special programs to make such efforts."
– How did you feel about studying abroad?
"It was hard. The first year for my Ph.D. was the hardest; my English wasn't as fluent and there were so much to cover."
– How did you overcome the hardship?
"I once turned in my assignment late, which disqualified me from an exam. I was angry at myself, but it served as a turning point. I canceled scheduled speeches to invested more time on studying and in four months, I could pass the exam with a successful grade. That kind of experience gave me more confidence."
– What's your plan after graduation?
"First of all, I am planning to write a children's book to let little ones know that disabled people are not the 'wrong ones,' but ones with some differences. I will narrate the story as if my niece is introducing my story. I also am planning to write about my personal experience as a student here in America. Since I spent much time studying to become a social welfare expert, I want to conduct a study or deliver lectures about it as well, but I'm willing to do anything I can do to help those in need."
– What do you want from yourself facing a new beginning?
"Many people who read my book or listened to my speech thank me for 'changing their lives.' I don't want to disappoint them. I want myself to stay as a person who is there to reach hands when others need me."
Original document available from www.koreadaily.com/news/read.asp?art_id=4347694
Translated by Heewon Kim