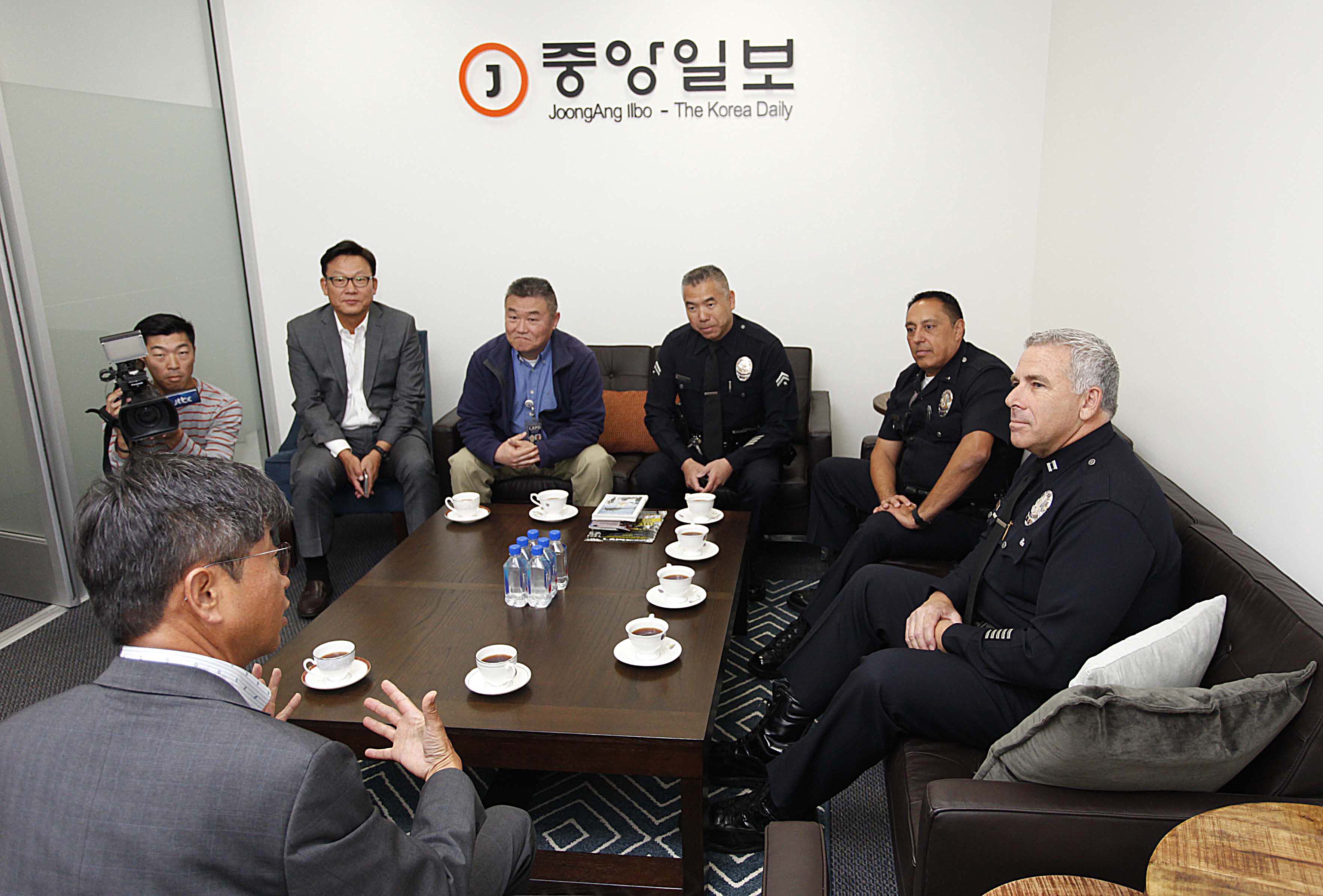 Los Angeles Police Department and the Korea Daily are cooperating to keep Koreatown safe from crimes.
On May 24, Captain Andrew Neiman and three other officers from LAPD visited Los Angeles Korea Daily to discuss ways to insure safety of Korean population living in Los Angeles.
At this meeting, LAPD and the Korea Daily agreed to start a campaign for Koreatown public safety. As a part of this campaign, the Korea Daily is to present safety guide as well as other related information through its newspaper and social media pages.
"Recently, there has been increased attempts to impersonate IRS to extort money," said Captain Neiman. "LAPD had sought for a way to raise awareness about such an issue and we decided to ask the Korea Daily, one of the most influential media of the community, for a partnership as a channel to communicate with the Korean population."
LAPD and the Korea Daily are also planning to hold a public safety seminar. At this seminar, officers from LAPD will teach how to react to the firearm accident in an effort to keep people, including Koreatown small business owners, safe from the threat of firearm accidents.
KwangHo Lim, CEO of the Korea Daily, expressed willingness to cooperate with LAPD for the Koreatown public safety. "In addition to the upcoming campaign and seminar, we will seek for ways to help LAPD to keep our community safe from various dangers and crimes.
"LAPD is always trying to increase the channels to communicate with the Korean community," said Captain Neiman. "The increasing number of violent crime cases made it even more crucial to cooperate and communicate with people in the community. We are glad to work with Korea Daily for that."
Original document available from www.koreadaily.com/news/read.asp?art_id=4294816
Translated by Heewon Kim