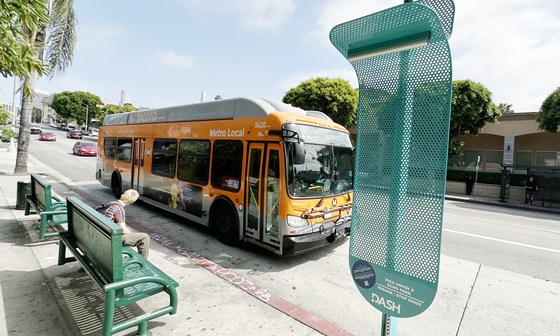 The new bus stop shade design by the Los Angeles Department of Transportation (LADOT) has faced widespread criticism, being described as a debacle.
Last year, The Korea Daily highlighted the lack of shades at bus stops in L.A. Koreatown and demanded improvement through our 'Senior Mobility Rights' series. The LA Times even cited our article to expose the reality in Los Angeles.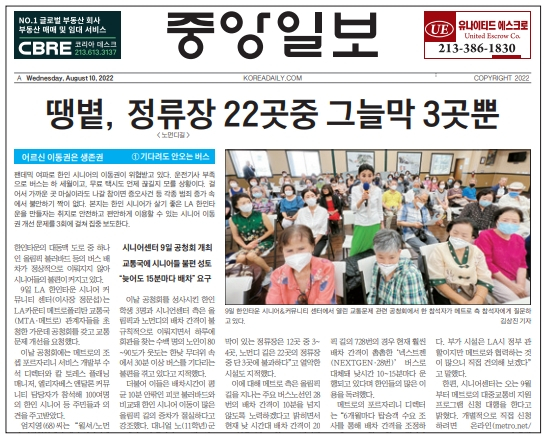 The bus stop shade design, known as "La Sombrita" (Spanish for "the shade"), was unveiled by LADOT at a press conference on May 18. However, mainstream media outlets such as ABC News criticized it as "a structure that doesn't shade anything."
Despite its name, the shade is barely sufficient for one person. The steel structure is also perforated with holes that fail to block the wind, and the lighting at the top is too small to illuminate the surrounding area. Surprisingly, these small shades reportedly cost between $7,500 and $10,000 each.
As part of a pilot program, LADOT has installed these structures at four locations: Westlake, Watts, Panorama City, and Boyle Heights. At least $30,000 has already been spent, with the overall budget for the pilot program set at $200,000.
"I don't see the point of it, but I guess somebody might need it… But for shelter, it's not a good thing," said April Miller, a resident of Van Nuys.
On May 22, Reason Magazine remarked, "the fact that there were more officials there to celebrate La Sombrita than could fit beneath it was an illustration of the out-of-proportion ratio of bureaucratic input to infrastructure output."
In response to the criticism on Twitter, LADOT and Kounkuey Design Initiative (KDI), the company behind La Sombrita's design, defended it by stating that the structure was 'designed to get to work fast within the current policy landscape.'
"Typical bus shelters often cost $50k or more and require coordination among 8 departments," tweeted KDI. "But La Sombrita (in its most expensive prototype form) costs approximately 15% of the price of a typical bus shelter and can be installed in 30 minutes or less."
While some dismissed LADOT and KDI's justifications, they acknowledged that the structural problems within the city government contributed to the flawed design. This has led to calls for structural reforms to enhance government capacity by streamlining processes, centralizing decision-making, and utilizing off-the-shelf designs.
However, even considering these limitations, the design of La Sombrita has been heavily criticized as lacking common sense.
Reason Magazine sarcastically pointed out, "On Amazon, one can purchase a baseball cap with a built-in light for only $17. For the price of one La Sombrita, 441 people could carry the same amount of shade and light to any bus stop in the city."
They also highlighted that "Providing one for the 157,360 people who commuted via transit in Los Angeles County in 2021 would cost $3 million. That's quite expensive, but still less than the cost of installing La Sombritas at even a fraction of the county's 12,000 bus shelters."
The controversy surrounding LADOT's new shade design is further exacerbated by the long-standing issue of inadequate shades at bus stops in Los Angeles County. Last year, LADOT reported that only a quarter of the county's 12,200 bus stops had some form of shade or sun protection.
BY SUAH JANG [support@koreadaily.com]