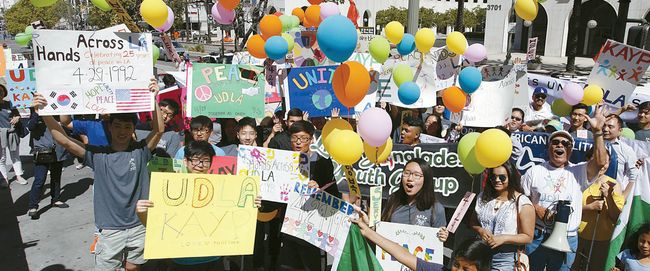 On April 29 in Koreatown, citizens and politicians from Korean, Black, and Latin America community gathered to commemorate the victims and to recall the important lessons learned from the L.A. Riots.
At 10 in the morning, Korean youth community and Latin American community in the area gathered at Oxford Ave. and Wilshire Blvd. for the Hands Across Koreatown event. Approximately 100 members from Unification of Disabled Latin Americans (UDLA) and Korean American Youth Program (KAYP) participated to remember the 1992 L.A. Riots.
On the same day, about 500 people from various ethnic groups held the Peace Parades at Normandy Ave. and Olympic Blvd. The group reenacted the hundreds of thousands who have marched for peace and justice on May 2, 1992.
L.A. City politicians and representatives from Korean and Black communities held a commemoration event at First African Methodist Episcopal (FAME).
"We've lost 63 precious lives today 25 years ago," said Senior Minister. Reverend "J" Edgar Boyd. "Let's gather our strength for the future of L.A. City and for the future of our children."
"We've endured the past 25 years, but we can't forget the scar it has left on us," said the mayor of L.A. Eric Garcetti. "Let's make the city where every member from different ethnic communities can share same opportunities without discrimination."
Original article by Kim Hyung-jae
Translated by Heewon Kim