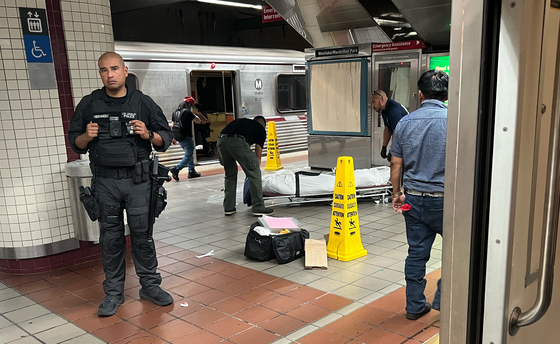 Los Angeles residents are increasingly avoiding public transportation due to a significant increase in crimes committed on trains and buses.
On the 16th, the LA Daily News and the LA Times reported that violent crimes such as threats and assaults, murders, rapes, and robberies increased by 22% in 2022 compared to the previous year, citing statistics from the Los Angeles County Metropolitan Transportation Authority (LA Metro). Less serious crimes such as misdemeanors also increased by 14%.
Most notably, 22 drug-related deaths have been reported on LA Metro trains and buses so far this year. That's more than the 21 people (six drug-related) who died in various incidents and accidents on Metro last year.
Even L.A. Metro employees are seriously concerned about the lack of policing on public transportation. One employee, who wished to remain anonymous, used the word "horror" to describe the current situation.
On a recent Red Line metro, the employee said he even witnessed a man masturbating in his seat. He noted that majority of the riders of the Metro just use it to sleep.
The LA Times also published a photo of a man on a Red Line train smoking fentanyl in his seat. They wrote that drug addicts are to be seen everywhere on Metro trains and platforms. As the demand for drugs on public transportation has increased, so has the illegal trade around Metro stations.
In fact, according to the LA Metro report, between November last year and January this year, there were 26 medical emergencies at Metro stations, with most of them being patients of overdose. LA Metro received a total of 1,385 substance abuse cases last year.
With the increasing number of incidents and accidents at 105 Metro stations and 12,000 bus stops in L.A. County and the growing perception of how "Metro is not safe," it is analyzed that the vicious cycle of decrease in transit ridership and increase in crime will continue.
A woman, 30, who recently took the Expo Line train from USC to Santa Monica, said, "There was a fight on the train, and some people were continuously singing loudly, and no one stopped them. I don't want to ride the Metro again."
Metro transit ridership has been slow to grow as incidents of violence and substance abuse on public transportation continue, Fox News reported. In January, ridership on the Gold Line between East L.A. and Union Station was just 30% of pre-pandemic levels. Ridership on the Red Line, which connects Downtown L.A. to North Hollywood, was 56% of pre-pandemic levels.
L.A. Metro is looking to turn things around with the launch of its Metro Ambassador program on June 6. The plan calls for 300 full-time ambassadors to travel on trains and buses throughout the county to ensure passenger safety and cleanliness.
BY HYUNGJAE KIM [kim.ian@koreadaily.com]