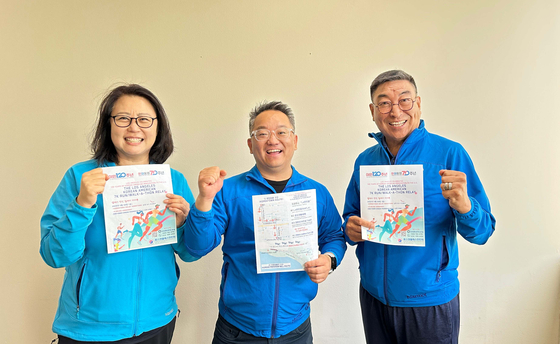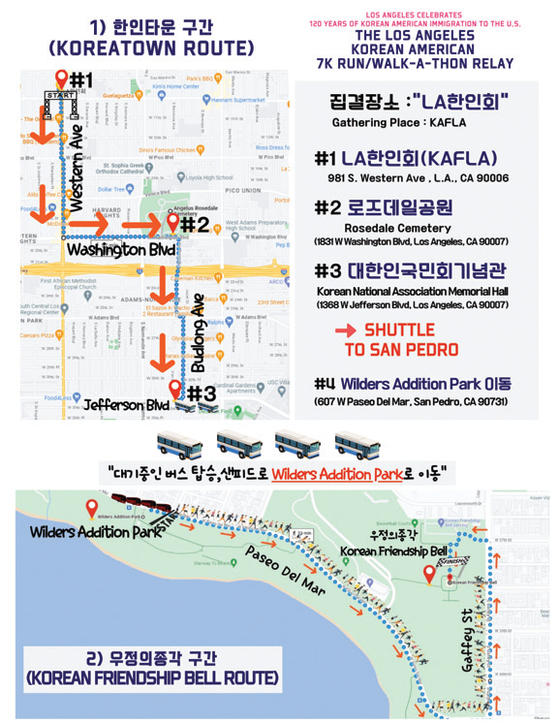 "We want it to be a time for families to run together and reflect on their identities."
The Los Angeles Korean American 7k Run/Walk-A-Thon Relay, honoring the 120th anniversary of Korean immigration to the United States and the 70th anniversary of the U.S.-Korea Alliance, will take place on May 20.
Participants will start from the Korean American Community Center at 2 p.m. on May 20 for a 3.5-mile run to the Rosedale Cemetery and the KNA Memorial. They will then catch a 5 p.m. bus to Wilders Addition Park in San Pedro for a one-mile run to the Korean Friendship Bell.
Community leaders, including LA Mayor Karen Bass and Consulate General Youngwan Kim, are planning to participate in the opening ceremony before the running begins. After the congratulatory speech, Mayor Bass will personally signal the start of the running.
According to the Korean American Federation of Los Angeles (KAFLA), the organizer of the event, approximately 150 people have registered to participate, ranging from the general public to members of Korean American marathon clubs.
"It will be a meaningful time to connect with the community's roots," said James An, president of KAFLA, who visited The Korea Daily on May 18. "We have prepared various gifts for the participants, including commemorative T-shirts, medals, water bottles, and ramen noodles. Please join us."
"We hope that many second and third-generation Koreans will participate and explore their identity by following in the footsteps of their ancestors," said Dongmok Lim, director of KAFLA.
Helen Kim added, "This is the first significant event in Koreatown since its unification into one district, so we hope it will be an enjoyable experience for many people."
There is no entry fee, and parking is available at the Koreatown Plaza (928 S. Western Ave.).
On the same day before the relay running starts, the Koreatown Youth Community Center (KYCC) will be hosting a major cleanup event in Koreatown with the Bangladesh community at 10 a.m.
Organized in celebration of Asian American Heritage Month, more than 70 volunteers will pick up trash and clean up about 10 blocks stretching from Olympic Blvd. to James M. Wood Blvd. and Serrano Ave. to Gramercy Dr.
Councilmember Heather Hutt (District 10) and Councilmember Katy Young Yaroslavsky (District 5), whose districts include Korean American neighborhoods, will attend the closing ceremony to encourage the volunteers.
"We are providing free cleaning equipment to participants," said KYCC Communications Director Steve Kang.
To register for the Los Angeles Korean American 7k Run/Walk-A-Thon Relay, visit: https://forms.gle/UcxTHQGcRWAV8QV79
To register for the KYCC Koreatown Street Cleanup, visit: http://bit.ly/APAHMDayOfService
BY NICOLE CHANG [support@koreadaily.com]