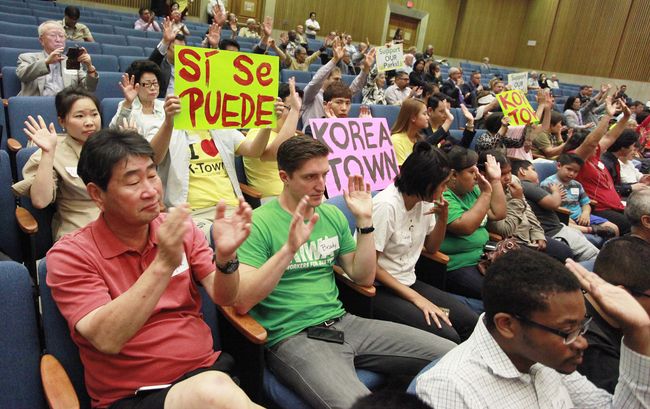 The south-after redevelopment plan to build a community center in Koreatown received an uplifting news this week after the Los Angeles County has officially decided to put the construction proposal as its future agenda item.
Plans to construct the much anticipated landmark property for nonprofit organization Koreatown Art & Recreation Center (K-ARC) was proposed once again by more than 150 Korean-American attendees at Tuesday's L.A. County Board of Supervisor's Meeting.
In the meeting, supervisors chose 433 S. Vermont Ave., location of a county-owned land in the heart of Koreatown between 4th and 6th Streets, as the potential construction site for the 25,000 square feet property.
Korean American Federation of Los Angeles vice president Mark Lee and Los Angeles Korean Chamber of Commerce vice chairman Albert Chang were among the notable attendees at the event along with former Los Angeles City Council representative Tom LaBonge and officials from K-ARC and other organizations, all of whom came in support for the community center that is expected to become Koreatown's landmark.
The turnout of those who support the construction of K-ARC building at the meeting exceeded expectations, which was reflective of Korean-American community's lasting hope to finally get its wish, as the discussion carried on for more than an hour.
"Now, the plan to build the community center has reached a new height," K-ARC announced after the meeting. "We must continue to convince the government and the development company to make sure that we can build the kind of community center that we want. It's vital that the current level of interest remains consistent."
K-ARC's proposal has been compromised from its initial demands, which requested that the size of the property to be up to 40,000 square feet.
The development process for the construction is expected to take 18 to 21 months.
By Jae Hee Lee