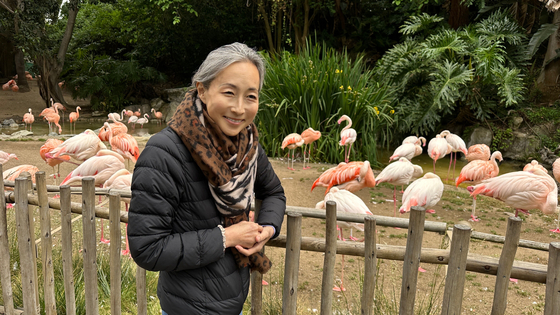 "Zoos are places where a wide spectrum of generations visit and make memories, from grandparents to newborns, and we hope that many Korean-American families will create cherished memories and nurture dreams at the L.A. Zoo."
A Korean American female attorney will be honored at the L.A. Zoo's annual fundraiser, the "Beastly Ball," on June 3. Attorney Diann Kim, 65, the managing partner of the law firm Scheper Kim & Harris, has served as a trustee of the Greater Los Angeles Zoo Association (GLAZA), which operates the L.A. Zoo and Botanical Gardens, for the past 12 years. She will be honored alongside former L.A. City Councilmember Tom LaBonge for her contributions to the development and growth of the Zoo.
Since joining GLAZA, Kim has spearheaded fundraising efforts and provided financial support for the establishment of the Angela Collier Garden, a new botanical garden at the Zoo. Most importantly, she has played a key role in the development of a master plan that outlines the zoo's mid and long-term objectives, including site operations and expansion, wildlife conservation, and sectoral development strategies, drawing on her knowledge and experience as an attorney.
Kim's connection to the zoo stems from her daughter, Hannah Frank. "I took her to the zoo when she was young, and she loved it. When she became a high school student, she spent every Saturday attending classes and internships provided at the zoo, and she was very enthusiastic about it," Kim said. "So I started visiting the zoo every week and fell in love with wildlife, and here I am."
Her daughter attended Harvard and Stanford and is now one of the country's leading bat experts, teaching at Tulane University in New Orleans, Louisiana.
"I believe that childhood experiences are life-changing," said Kim, "and I was fortunate to grow up with a Korean identity thanks to my parents. I would like to see the next generation excel not only in the legal and medical fields but also in the fields of culture, arts, and natural sciences."
Kim's parents were early leaders in the Korean American community: her mother, Tae Young Lee, was the first female lawyer in Korea and founder of Korean American Family Services, and her grandfather, Sang Don Kim, was the first civilian mayor of Seoul.
"In addition to protecting Korean women who have experienced domestic abuse in their new immigrant lives, Korean American Family Services also holds camps for Korean-American children to teach them nursery rhymes and instill a sense of identity," said Kim. "Thanks to them, I was able to grow up without losing my Korean roots."
"I am incredibly grateful to be recognized and honored for doing what I love," said Kim. "I hope that many Korean-American families will visit the L.A. Zoo with their children to experience the wildlife and plants, allowing them to foster their dreams, vision, and be inspired."
BY NICOLE CHANG  [support@koreadaily.com]