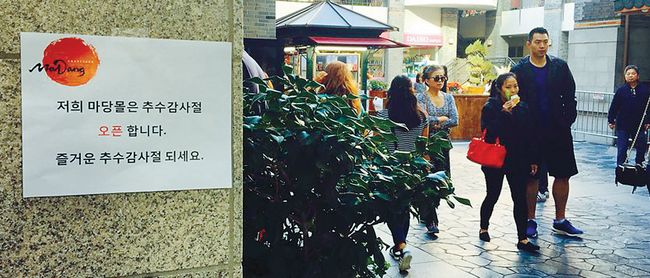 Most of Koreatown restaurants and businesses plan to stay open for Thanksgiving, according to the research conducted by The Korea Daily.
A week prior to the holiday, The Korea Daily asked 50 businesses in Koreatown and 45 out of the 50, which makes 90%, answered that they are planning to open on Thanksgiving. Such businesses include restaurants, grocery stores, retail stores, and karaokes.
Some places say that they're even expecting more customers on the day. "Many second generation Korean Americans visit Los Angeles to meet their families," said a Korean restaurant's manager. "They tend to come out and eat at Korean restaurants in Koreatown, so we usually have more customers on Thanksgiving."
Except for Koreatown Plaza on Western Ave, shopping malls and grocery stores in Koreatown stay open on Thanksgiving. Koreatown Galleria's grocery store will operate all day and Hannam Chain, too, remains open as they open 365 days a year.
Original article by Choi In-sung
Translated and edited by Heewon Kim