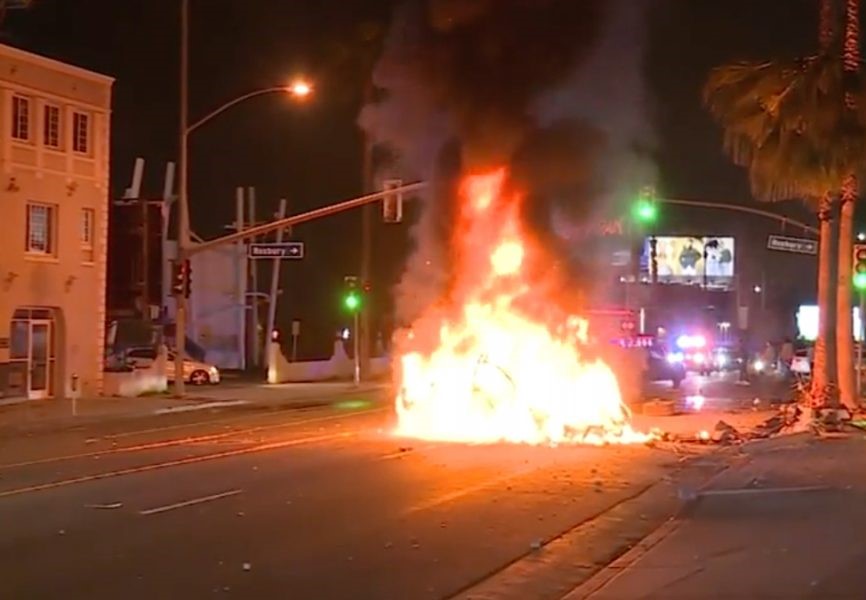 A Korean woman was killed after a fiery Tesla crash in Hollywood on Monday.
According to the Los Angeles County coroner's office on April 5, the deceased was identified as Monica Hyunmi Suh, 31, of Los Angeles.
At around 2:30 a.m. on the day of the accident, the Tesla X that Suh and the other passengers were riding in swerved and struck a streetlight and a tree before crashing into a nearby restaurant's patio. The car then burst into flames.
Suh was riding in the front passenger seat at the time, and died at the scene. She was reportedly an LA-based fashion industry worker. "Monica was the only passenger wearing a seatbelt and was trapped (in the vehicle) and died at the scene," Suh's friend wrote on Facebook. " She leaves behind her mom, a sister and a brother. They are in laws to my daughter."
The two women riding in the back seat at the time of the crash were injured and taken to the hospital. One is reportedly in critical condition and the other is in stable condition.
The male driver, who has not been identified, managed to escape before the vehicle caught on fire and fled the scene before being caught.
The exact cause of the crash is not yet known. However, some witnesses said they heard a loud noise similar to a jet engine.
BY JANG SU-AH jang.suah@koreadaily.com