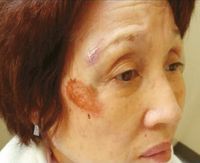 A sixty-year old Korean woman is suing the LADP (Los Angeles Police Department) for the excessive use of force.
On May 26, CBS2 reported that Jeon Oak-Jin sued the LAPD police officers for overuse of force in last April. As the police officer ordered the command to halt, she was threatened by the patrols' violence and excessive use of force.
According to CBS2, on April 14, Ms. Jeon went to her church early in the morning as usual. As she entered the entrance of the church, a patrol car blocked the entrance of the church parking lot. Thus, Jeon sounded her car horn for several times. Afterwards, the patrol car also entered into the church parking lot, following her, the patrols stopped and questioned her on the street.
As soon as Ms. Jeon got out of her car, the patrols requested her to present her vehicle registration. However, Ms. Jeon was not fluent in English, so she could not clearly understand the patrol. As she is frightened, she immediately called 911 for interpretation system and also tried call her husband.
However, the patrols restrained her by pulling her hands and putting handcuffs on her.
Ms. Jeon's counsel insisted that the patrol's violence was excessively brutal according to the video-recorded violent scenes of the church's surveillance camera.
David Jeon, Ms. Jeon's son, said, "My mom has done nothing wrong. My mom did not even understand why they violently threatened her." David strongly resented the patrol's unreasonable violence against his mother.
While the police officers brought her into the police station, four more the patrol cars were sent to the incident. At the same day, after Ms. Jeon was transferred to a hospital, she was detained in custody.
Meanwhile, the LAPD have not yet offered any official response to the current affair. CBS2 cited an anonymous police officer, reporting that the police officers who are relevant to this affair are now internally investigated